Chance Meeting On a Dissecting Table of a Sewing... (Tape)
Label: Post-Materialization Music
Format: Tape
Genre: Electronic
Out of stock
**160 copies with silk-screened NWW patch and insert** Cassette re-issue of the timeless
Nurse With Wound
debut release from 1979. Described by Sounds at the time as a record that "makes The Faust Tapes sound like Carousel," nothing has changed to alter this view over the last 40 years, and to say that this work is the "Sgt. Pepper of the avant-garde" would not be an hyperbole.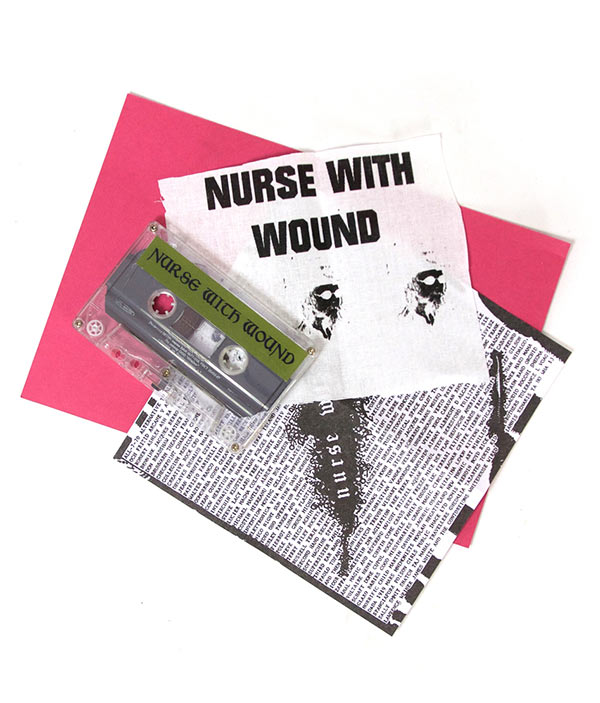 "The album came about when
Steven Stapleton
was working as a signwriter in London in 1978. Completing a job at an independent recording studio, he engaged in conversation with the studio's engineer,
Nick Rogers
. Rogers, frustrated with the advertising and voice-over work the studio brought in, expressed a wish to work with more experimental bands. Stapleton informed Rogers that he was in such a band and a studio date was arranged. Stapleton, however, was lying and had to hurriedly put something together. He called his friends
John Fothergill
and
Heman Pathak
, telling them to get hold of an instrument of some sort. Thus, the first line-up of Nurse With Wound (whose name supposedly relates to a scene in the film Battleship Potemkin) was quickly assembled, Stapleton on percussion, Fothergill on guitar (with built-in ring modulator) and Pathak on organ. The trio didn't have a chance to rehearse before entering the studio, yet the album was completed within 6 hours, with Rogers adding what was called "commercial guitar" on the sleeve. The studio's piano and synthesizer were also used. The tale is so fortuitous as to appear unlikely but Stapleton and Fothergill agreed on the story when interviewed separately by David Keenan for his book England's Hidden Reverse.
The album contains 3 lengthy tracks and Stapleton has stated that these were edited from improvisations with some overdubbing. Stapleton designed the sleeve using an old pornographic magazine. Some copies came in a brown paper bag as a handful of stores were not prepared to have the cover on display; however, both Rough Trade and Virgin took copies without censorship. The original hand-numbered 500 copy pressing was cleared within weeks. Amongst those who bought the album were
Tim Gane
, later of
Stereolab
, and
William Bennett
of
Whitehouse
, both of whom would later work with Stapleton.
One of the most discussed aspects of the album however was the inclusion of the Nurse With Wound List, an A4 sheet with a list of bands and artist who had provided inspiration to the group. It remains a touchstone for collectors of experimental and outsider music."