Finally available, this is the legendary 1979 debut LP by Miami based husband and wife synth enthusiasts on the choice format that came to represent the DIY new age electronic movement in the following decade. Emerald Web was, in fact, the wind playing electronic duo of Kat Epple and Bob Stohl.  Although they'd become better known for their work scoring nature documentaries (including many collaborations with Carl Sagan), Emerald Web's 1979 debut album was a milestone in electronic psychedelia- rooted in the prog of the mid 70s and foreshadowing much of what would come in the early 80s.

An early seminal precursor to 1980s electronic new age/minimal synth/relaxation music boom and a welcome feminine take on the genre (critically epitomised shortly after by the likes of Suzanne Ciani) Dragon Wings and Wizard Tales hear the multi-instrumentalist duo combine a broad range of modular synths (as found in similar formation to ambient krautrock records by Klaus Schulze) and the use of the Lyricon wind synth (as favoured by Swiss electronic pioneer Bruno Spoerri).

he Lyricon wind controller makes a very early recorded appearance on this album and is one of the reasons the many sounds heard here are hard to place. The line is constantly blurred between live flutes and the electronic approximations, even occasionally mimicking bird calls. It's these sound combinations that give the songs an otherworldly quality- like hearing indigenous music from another planet.

Although some pastoral vocal songs show up here and there, eerily dreamy instrumentals make up a little more than half the record. These are certainly among the highlights and show Emerald Web's talent for crafting soundtrack music that would come to the fore later on. "The Flight of the Raven" is a brief but gorgeous piece, summing up all that is good about this record in under three minutes. Fleeting melodies give way to dramatic clashing synths, fading away at just the right moment. "The Powerstone" recalls early King Crimson, especially the vibe of "Moonchild". It's on this track that Emerald Web's knack for creating natural sounding tones and soundscapes from very electronic instruments is most evident.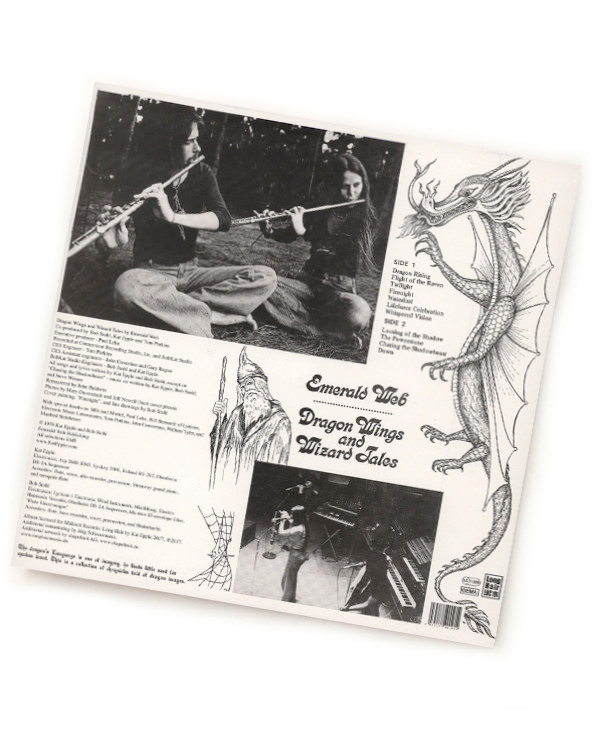 Album has been remastered and comes with four sided insert which includes comprehensive band story and liner notes to each title by Emerald Web member Kat Epple and all lyrics. There are also rare and unseen photos. A secret tip not only for lovers of the genre but also for people with open minds! Highly recommended!