"sources of sound that have the lives of small creatures, maybe small creatures that hibernate in darkness but then come to life when exposed to the light. These creatures of which I speak are activated to perform their own cycles of drumming or scraping, all working together as if moving inexorably toward the sudden miraculous synchronicity of flashing light that a few fortunate observers have seen in firefly displays. What I am saying, should it be unclear, is that this is a kind of intensely rhythmic music performed by an extra-human ensemble not susceptible to the orthodoxies of human culture, in a sense a step into another dimension." (David Toop)

Rie Nakajima is a Japanese artist based in the UK. She has exhibited and performed all over the world charming audiences with her inventive works of mechanical bricolage. In 2014 she received the Arts Foundation prize for Experimental Music. She co-curates the event series ' 'Sculpture' with David Toop and has collaborated with Miki Yui, David Cunningham, Phill Niblock, Pierre Berthet and many others.
.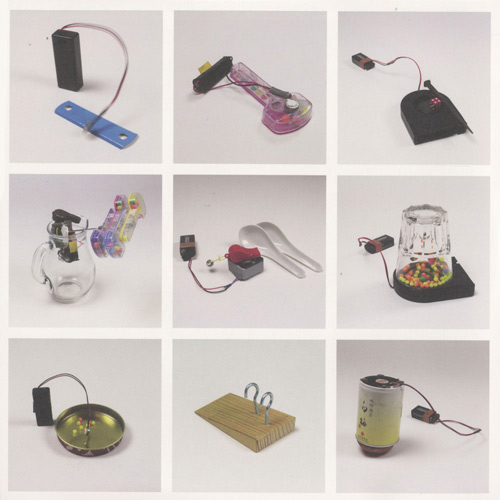 .Four Forms is the first audio-document of Nakajima's work, comprising four pieces recorded in Oxford in January 2014:
Rie Nakajima's improvisations are made with small objects laid out on a table or a patch of floor: wind-up toys, glasses, sponges, wood, close-miked bits and pieces that she sets in motion, slowly adding to or taking away from the sound over the course of a performance. Sleevenotes by frequent collaborator David Toop describe Nakajima's setting up of an "extra-human ensemble...a step into another dimension", and ensemble does feel like the right word for the devices that Nakajima gives life to. Heard on record, without the obvious presence of the artist, the whirring, ticking patterns sound intensely communicative, if indecipherably so. Four Forms is crisply mastered by Giuseppe Ielasi, and every sonic detail is sharp and tactile, but what really impresses are the compositions Nakajima coaxes from her flotsam orchestra. The second piece is atmospheric in a very literal sense, climaxing with a shower of percussive sounds like a tropical rainstorm that drowns out, for a few minutes, the constant high hum of insect life. Frances Morgan, The Wire, January 2015
.