In collaboration between Christian Marclay and the London Sinfonietta, some of the world's most renowned contemporary musicians have been invited to stage performances, including new compositions and live improvisation sessions inside the White Cube. Each performance over the course of the exhibition will be recorded, pressed and screen-printed live inside the gallery. This performance is from Rie Nakajima.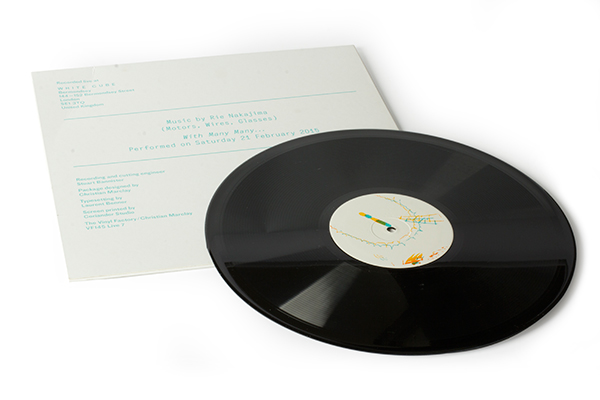 Rie Nakajima was born in Japan and lives and works in London. Nakajima works with installations and performances that produce sound. Her works are most often composed in direct response to unique architectural spaces using a combination of kinetics and found objects. Besides her solo projects, she has collaborated with David Toop, David Cunningham, Keiko Yamamoto, Miki Yui, Junko Wada, Guy De Bièvre, Pierre Berthet, Phill Niblock amongst others. Since 2013 she has worked with David Toop to produce the Sculpture series. Nakajima has exhibited and performed widely, both in the UK and overseas. In 2014 she won the Arts Foundation Award in the category of Experimental Music.
Performances take place each Saturday and Sunday of the show. Following live pressing on the VF Press by The Vinyl Factory and live screen-printing by Coriander each Thursday and Friday.