**Edition of 100** Here is DDAA's Holy Grail: the first five single reissued for the first time on CD! "GNz-11" traces the beginnings of the band that had never really been revisited before: the first five years 1979-1984 in term of record productions! But more precisely the origins of the band are still older: DDAA was founded in April/May 1977 (and not in 1979, as we can read on a well-known music database site: this information is wrong!). DDAA with Die Form (Philippe Fichot) are two crucial bands, two pioneers in the French musical landscape of the late70s (both still active) and today we can saw them formally as the real two first Industrial band in France (influenced by the fundamental mid-70s group Throbbing Gristle led by the great Genesis P-Orridge and also among others by Suicide, Velvet Underground, Swell Maps for DDAA - Hans Bellmer and Antonin Artaud for Die Form's theatre of the cruelty).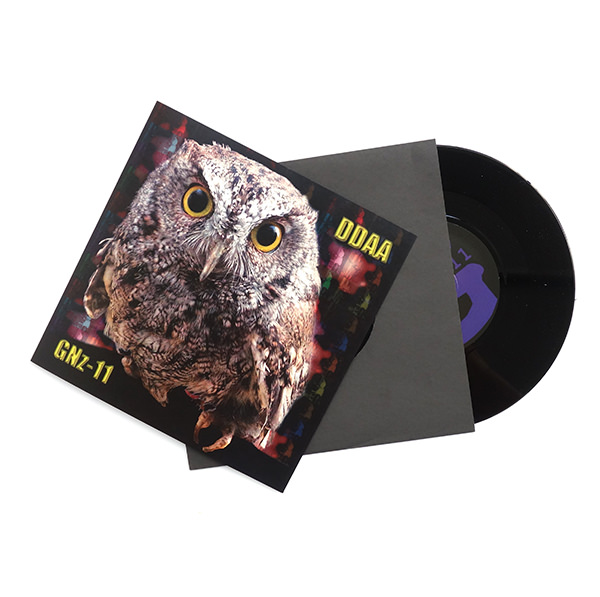 In 1977 the French scene was still mainly and strongly built on progressive-rock (Magma, Gong, Ange, Heldon, Pulsar etc…) and it's not the first punk festival at Mont de Marsan in 1976 (and later 77) that will contradict me, even it's quite revealing: mostly played by UK bands and also because at that time the french punk bands is still light years from UK punk… despite maybe The Dogs (again from Normandie) which was surely the best punk band that France have known! (2018 Year of the Dog and Bravo forever Dominique for the insane ''The most forgotten French boy''). So basically and except some groups in the margins of the mainstream (Art Zoyd, ZNR, Heratius, Mahogany Brain, Jacques Berrocal…) France in 1977 is almost composed by groups from the first rock generation of late 60s with progressive roots. But it is from these years that the cultural change will begin to take place and ironically in a progressive way.... With the emergence of new indies labels in this pivotal time, who will move the lines a lot (and the most outstanding label will definitely remain Sordide Sentimental based in Rouen, founded in 1978), the DIY movement is running and the new groups like DDAA, Die Form, or even Ptôse, Pacific 231, etc…will not transform the scene but will greatly contribute to its diversification, in its brewing by promoting the arrival of this new wave in full explosion, and that, not totally with their music but also by setting up an "underground network" with the help of their own respective labels : Illusion Production (DDAA) , Bain Total (Die Form), Ptôse Production Présente (Ptôse) etc.., network that will be well fed and well relayed by the very active culture of the 80s fanzines (Intra-Musiques, New Wave, Hello Happy Taxpayers, Karnaval Noir etc…). The famous cassettes compilation (cult today) like : « Sensationnel Volume 1-5» by Illusion Production, « Sex & Bestiality Volume 1-4 » for Bain Total and the « Assemblée Générale Volume 1-5 » chez Ptôse, are the best illustration and the perfect demonstration with a myriad of groups who came from all horizons (all these groups were almost unknown to the general public at that time, some still stay today unknown, some not…!), we can find on it: Etant Donnés, The Legendary Pink Dots, Fredrik Nilsen, P16 D4, Alien Brains, Pascal Comelade, Absolute Body Control, Vox Populi !, Attrition, Tara Cross, K2, Deux Pingouins, FAR, Denier Du Culte, Bene Gesserit, Anode/Cathode, Psyclones, De Fabriek, ½ Japanese, Rosa Crux, Bruno Comando, The Grief, TAC, Yoran, Renaldo & The Loaf, Maybe Mental, The Haters, Berlinerluft, Bourbonese Qualk, Vivenza, XX Century Zorro, The New Blockaders, Smegma, Das Synthetische Mischgewebe, La Confirmation, Hovlakin, Section 25, John Duncan, Club Moral, Merzbow, Smersh, O Yuki Conjugate, Un Département, Anne Gillis, Kumiko Suyama, Culturcide, Asmus Tietchens, Ghédalia Tazartès, Pseudo Code, Mystery Hearsay etc… It's new lightning in the landscape will work perfectly, with a growing network, and with as result many excellent music, the legendary golden 80s! And this model will be virtually identical for all neighboring countries: UK, Germany, Belgium, Netherlands, Italy, Spain, Switzerland… and also Japan and USA, but this "underground network" at his peak in the 80s and also in the 90s will gradually end up (second irony of fate!) declining in the face of the technology which also grows steadily (and never stop: from the CD… to download, streaming…) having failed to find the positioning and the alternative to this insidious progress because technology (the new opium for the people) is always right about everything !! The situation is even worse today with a fairly dissociated network (exit underground !) that has become cannibalized…

The very first incarnation of DDAA met at the Art School in Caen ("Beaux-Arts") and was composed by Jean-Philippe Fée (guitar), Jean-Luc André (guitar) and Serge Leroy (drums). Jean-Luc André found the name: Déficit Des Années Antérieures, and rehearsals are organized in the basements of a local MJC ("Maison des Jeunes et de la Culture"). Soon after Serge Leroy will left the band, and Sylvie Martineau-Fée (from the same Art School) will join in 1978 with her Korg MS-10. And then arrives 1979 which will be the defining year for DDAA, marked on the one hand by the creation of their own label Illusion Production and on the other hand with the first concerts and the first releases ! DDAA's first concert was in Caen at Mixage International (a place created by Joël Hubaut) on 20 June 1979. The second was in Cherbourg Salle de la Duché on 15 September 1979 (the CD inside traycard and front cover photo is from this concert, and an 11 minutes extract appears on DDAA's CD reissue "IP050" of the first cassette as a bonus track). And the third concert was in Hérouville Théatre d'Ostrelande in November 1979 (photos can be seen on the booklet of DDAA's "Action and Japanese Demonstration" CD reissue "Fractal 333").

DDAA's first cassette, the historical first release is simply titled : « Déficit Des Années Antérieures » and it's sound very industrial, in the realm of TG, but soon after, with their first single, they will change the direction, by expressly creating a style of their own, which will become over time the true trademark of DDAA characterizing the group that we will also find spontaneously on all other future productions (singles/LPs/cassettes/CDs) throughout the 80s until today : the music will become much less noisy, more accentuate on vocals or singing often dynamic, fairly repetitive and structured by very diverse moods, minimal, avant-garde. DDAA's spirit sails between an art-rock nebula and an experimental dark-wave. Their compositions revolves around often enigmatic concepts more or less convoluted where evolves in imaginary and poetic spaces some recurring fictional characters such as adventurers crazy reporter most of the time embarked on rather unlikely stories as a sort of manga puzzle to cut you the breath ! We wonder after all if behind this humoristic decor slightly fussy, does not detect an underlying satire, and seen in precursor of this globalization that is looming right in front and intended to be cancerized. DDAA's vague and strange world is a unique universe and a world of its own, however their artistic approach (not really in the sound but more in the attitude) is very close to groups like The Residents, Doc Wör Mirran, Deep Freeze Mice, Der Plan, S.Y.P.H., The Mutants, Picky Picnic, Geisterfahrer, La STPO...

The first four singles are recorded quickly between 1979 and 1980, pressed at 500 copies each, and formed an ensemble of 15 tracks relatively homogeneous giving off all the creativity of the early DDAA. The whole force of expression of the group is condensed in the songs and voices that one feels as a need for urgent release, seizing ! With highlights like "Miss Vandann" (their first hit) "Danse Danse" (a favorite at chez Fractal) "Tous écoutaient King Harris" (fantastic !) "Bacteria Voice Epidemia" (bloody hell !) or "Motorrad in Africa". By extrapolating a bit this collection of singles could have been their true first album finally… but this title will goes to the beautiful and masterful 1982 LP « Action and Japanese Demonstration » (and already conceptualized since 1979 because the themes chez DDAA interpenetrate also in time!). Followed by the most dreamy, new-wave « 5ième anniversaire »1984 (pressing 2000 copies) for the last single here with the cherry "Les 25 pièces sont vides" on the cake! The CD version includes two bonus tracks from the excellent 1986 compilation « Necropolis, Amphibians & Reptiles (The Music of Adolf Wölfli) » with Graeme Revell (SPK) and Nurse With Wound. Oddly enough these two DDAA tracks rather atmospheric and experimental sounds even more Nurse With Wound than DDAA! So I remember well here to avoid any confusion that DDAA is NOT ON THE LIST! You see what I mean… At last, the CD comes with a 12 pages color booklet including cover sleeves and rare photos. All tracks have been remastered by DDAA but due to the fact that some master tapes were unusable, some small light surface noises may occur on few tracks (sorry for that inconvenience). And to take wonderfully on the wrong foot this CD reissue of the first singles, Fractal propose with « GNz-11 » a new single on VINYL (you still follow !) with two unreleased tracks : the eponym track of the whole project and a remix of "Miss Vandann" (1st single 1979) in a very limited edition and 3 versions : 'collector', 'regular' and 'standard'. The 'collector' and 'regular' edition available only by subscription are sold out (but only 25 subscriptions in total !). So luckily, "GNz-11" will be not pressed at 2000 copies ! (with just 25 subscriptions, do you realize… it would have been a pity if because of that, Fractal could not have celebrated his « 25ième anniversaire » next year ! Fractal : a generation of music : underground. NB: Virtually excluded from the media world and more or less from the distribution today, Fractal label is certainly the best kept SECRET in France for the past 30 years (sorry again, but if nobody talks, we must say this no !?). Also a possible future vinyl edition expanded of "GNz-11" is envisaged but Fractal will takes its time for this realization… first place to the CD and the single !

Like their German counterpart, Die Tödliche Doris, the trio DDAA is a key pillar of counter culture in France since 1977: "die Franzosen Geniale Dilettanten" !

FRACTAL RECORDS, May 2018.   / (this text is dedicated to the group Red Noise 1968 /2018).