Art Fleury's "I luoghi del Potere" is another gem that we excavated from the past, which makes us wonder once again on how intense and creative the Italian avant scene of the seventies was, and how much we have forgotten about it. This is timeless music that redefines the borders of our experience and perception, and urges us to reconsider the impact of an Idea, when it functions as the soul and the engine of an artistic work.

... while i can certainly hear nods towards Henry Cow (with whom they toured at the tail-end of the 70s), and especially Franco Battiato, this is much, much weirder, completely disjointed in spots and quite addled with tape-speed-effects, random electronic squiggles, mellotron drones, and the occasion rock-trio move.
fans of Faust and/or the more deconstructed end of late 70s experimental rock music; this set is an absolute goldmine - once again we're provided with a window into an avenue of italian underground music that had long been glossed-over...(Keith Fullerton Whitman)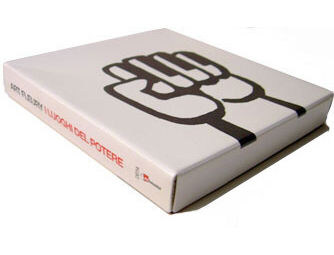 Coupled with powerful illustrations (especially created for this project) that function as a bittersweet comment on the Power of music, this edition will hopefully create an impact that goes beyond the simple act of buying a CD and consummate it.