best of 2015
Omaggio Ad Einstein
Label: Dagored
Format: LP
Genre: Library/Soundtracks
Out of stock
Deluxe LP edition pressed on yellow vinyl and presented in custom "big hole" jacket"Omaggio ad Einstein", among the many albums of electronic music composed by Piero Umiliani, has a very relevant place. In this homage to the German physicist, Umiliani subverts the rules of space and time in music and creates an album with 23 compositions, all of them less than 2 minutes long, instead of following the traditional 7-10 tracks usually present in an LP.
This is an original and experimental album, with a peculiar and epic catchiness, tied to Piero Umiliani's masterful use of synthesizers and great experience in the field of soundtracks. The themes of "Omaggio ad Einstein" take us to sidereal spaces, wandering across the universe with their clear sounds and wonderfully creative titles (The Celestial Vault, Nuclear Valchyries, Galactic Abyss…). This album, released in 1976 by the Omicron Label along with a few other copies, still fascinates us and 40 years later it sounds incredibly modern.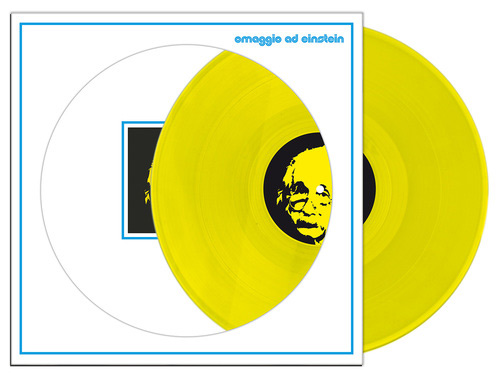 Deluxe limited edition with special "big hole" jacket and yellow vinyl.