The project heard on this CD resulted from a commission from the Festival des Nuits Romanes, which organizes performances and concerts in Romanesque churches in the Southwest of France. In 2008 this was given to Company D M I of which Kent Carter is the musical director. (Danse Musique Image), The resulting multimedia show 'Fire Shadow' was performed in three churches that year – excerpts can be seen and heard at here.
For some time, Carter has been organising superb groups whose music is unclassifiable. They have elements of chamber music, jazz, free improvisation, and traditional folk music. However these are not used in a superficial or haphazard way – they have been fused together to form a highly unique genre. The hand-picked musicians in the quintet came from a variety of musical (and national) backgrounds. Mezzo-soprano Laura Tejeda Martin and trombonist Conny Bauer joined violinist Albrecht Maurer, violist Katrin Mickiewicz and bassist Kent Carter who had previously worked as a string trio (INTERSECTIONS).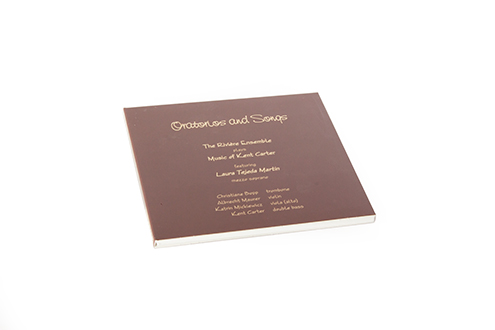 The collaboration between Company D M I , the Romanesque churches and the Festival continued in 2010, using the same musical format, except that Christiane Bopp replaced Bauer. A concert and an outdoor performance, 'COLORIAGE', in another beautiful church were followed by the session in Carter's studio that resulted in the recording heard on this CD.
Kent Carter says: The inspiration of the acoustic in these Romanesque churches, and the meeting with mezzo-soprano Laura Tejeda Martin started this cycle of song writing. My collaboration as a musician with Steve Lacy influenced me enormously. His progression of composing with voice and words (poetry) was a real pleasure.