Reve Parisien
Label: Primary Information
Format: LP
Genre: Electronic
Out of stock
An amazing limited LP that features four new Rhys Chatham compositions that were performed live at Kassay's exhibition at Art: Concept in Paris in 2010, and loosely functions as an audio catalogue to the exhibition.
Reve Parisien contains compositions that were both performed live and used as a soundtrack through Kassay's exhibition. These compositions mark a change in direction for Chatham, who has abandoned the trumpet style he developed in the nineties for a non-distorted, less effects-driven sound that compliments his minimalist compositions and his free jazz training. The LP is packaged in a stunning gatefold with an arced die-cut cover, which was designed by Jacob Kassay in collaboration with Frank Napolski.
" Chatham seamlessly creates a deep symphonic texture built out of layers of short and simple motivic gestures. Although performed on a single instrument at a single moment in time, these improvisations display Chatham's signature approach to form and balance, one rooted in his most massive and ambitious works.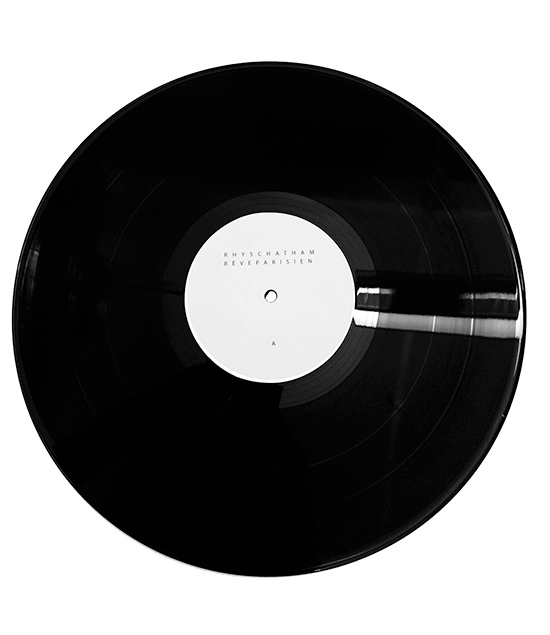 Originally a flutist, Chatham developed an incredibly sophisticated ear for harmonic overtones while working as a piano tuner for La Monte Young, in exchange for composition and theory lessons. He began composing chamber music that used advanced theories of just intonation in 1971, the same year he founded the music program at The Kitchen. After hearing the Ramones live, he began to compose for the guitar, mingling the extended durations of minimalist composition with the sheer volume of the late '70s rock scene in New York City. Guitar Trio (for electric guitars, bass, and drums) features three basic sections, the first one with the guitars playing their low E string for a while, then playing the bottom three strings, and then finally all six strings. It might not seem like much on paper, but what's created when five very loud electric guitars do this simultaneously is a sheet of cascading overtones that render the listener awestruck.
On Rêve Parisien, Chatham has developed a way to create this process himself, the lone trumpeter as composer/performer, layering musical idea upon musical idea until a sense of equilibrium ensues, one hovering between ecstasy and tranquility." (Zach Layton, Bomb Magazine)