Blue-ray Dvd with surround versions. Joan La Barbara is one of great figures in the history of the American musical avant-garde – holding equal standing as an innovator, composer, and performer. She has defined the field of extended vocal technique for the better part of half a century, pushing our understanding of the sonic possibility of the human voice – drawing on its primal root, and thrusting it into the unknown. Tragically, La Barbara has never entirely received the attention and recognition she deserves - often left lingering, or out of sight, in the shadow of her peers. This began to change in 2016 with Arc Light Edition's reissue of her seminal solo debut from 1976, Voice Is The Original Instrument, an effort now furthered by The Early Immersive Music of Joan La Barbara, comprised of recordings from the same period - the latest release from the New York based imprint Mode Records, who, in recent years, have assembled one of the most remarkable catalogs of contemporary and historic avant-garde works.

La Barbara's contribution is multi-pronged and hard to fully fathom. She entirely changed the landscape of what was considered creatively possible with the human voice, almost single-handedly sculpting the context we have inherited. A believer in democratic collaboration, she first emerged within the New York scene during the early 1970's, as a contributor to the works of others - John Cage, Morton Feldman, Robert Ashley, Steve Reich, Sonic Arts Union, her husband Morton Subotnick, and countless other luminaries from the art and music worlds - a spirit and practice that she continues into the present. While there is no denying the power and importance of those works, it is her own solo efforts, much of which has lingered in obscurity, released by her own Wizard record and long out of print, within which some of the most important and revolutionary gestures in 20th century music can be found.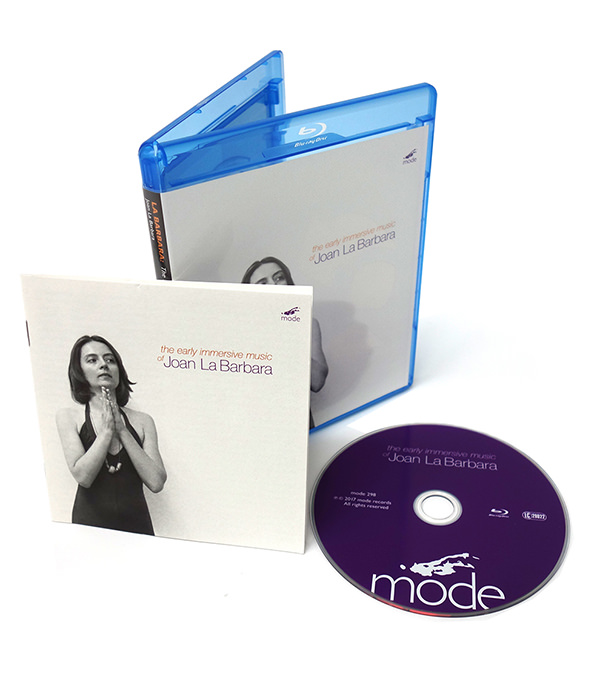 The Early Immersive Music of Joan La Barbara features three astounding, long-form works from the first decade of La Barbara's recorded output - As Lightning Comes In Flashes from 1981, Autumn Signal from 1978, and CYCLONE, created and recorded between 1976–77, but never before released. It represents a potent revelation for the present - an image of how important and influential the composer has always been.

As Lightning Comes In Flashes - a mind-bending, primal tapestry of vocal artistry, is an encounter and metaphor for La Barbara's sprawling creative ambitions. In her own words, the work was "conceived as an outdoor performance piece for singers, dancers, oversize costumes that unfurled and were left behind as a sculptural environment, video and sound installations. Designed as a life metaphor, the image was that of overlapping entities, each fulfilling a life pattern which ebbs and flows and climaxes in its own time". Even when compressed to the two dimensionality of sound, the sprawling depth of physicality and space is unavoidable - a sculptural landscape of sonorous nodes.

Autumn Signal is a work for voice and Buchla synthesizer. It offers a fascinating snapshot into her intimate world, with the primary creative outlet of her life's great love - her husband Morton Subotnick, intertwined with her voice. It is a stunning effort in duality - her voice represented twice, once processed, but more representational, with the other pure and abstract. The memory strains to find an equivalent before or since.

CYCLONE, conceived in 1977 at PS1 in NYC as a quadraphonic sound performance/installation, is a work for multiple voices, percussion and Arp 2600 synthesizer sounds. Never before released, it provides a fascinating window into the work during this period. A swirling, immersive world of beauty and humanity which draws in the body and ear.

The Early Immersive Music of Joan La Barbara, is, in the simplest terms, a brilliant revelation - a entirely singular conception of what experimental music is and means. As honest as it comes, within the fascinating intellect is a woman allowing herself - her humanity, to exist entirely in the air, hanging before our ears, exposed as great art always is. Wonderful, beautiful, challenging, and historically significant. Mode Records fantastic collection is as essential as they come. Featuring an entirely new mixes made from new transfers of the analog tapes, and released in both CD and on Bluray with lossless 24-bit stereo and surround audio formats. This is one to get!