**Very last copies** Composer, musician, visual artist, and performer, Charlemagne Palestine is a legendary figure in the New York underground scene. At the piano or on his electronic oscillators, this outsider of skillful music experiments with the principles of resonance and repetition in a quest for the "golden sound": the ultimate harmonic vibration. Based in Brussels for 20 years now, his iconic work consisting of teddy bears, divinities, and other enchanting encounters is exhibited in Bozar (Aa Sschmmettrroossppecctivve, May 18-August 26, 2018). For the occasion, Charlemagne Palestine also presents two exceptional musical performances at the Kunstenfestivaldesarts. Published on the occasion of Charlemagne's Aa Sschmmettrroossppecctivve exhibition, audioMER. present historical piano recordings dating from circa 1974. They were played on a Bösendorfer model 220, regarded as the "Rolls Royce" of pianos, at Charlemagne's 64 North Moore Street studio, Tribeca in New York. The music here represents Charlemagne's infamous "strumming" technique.
.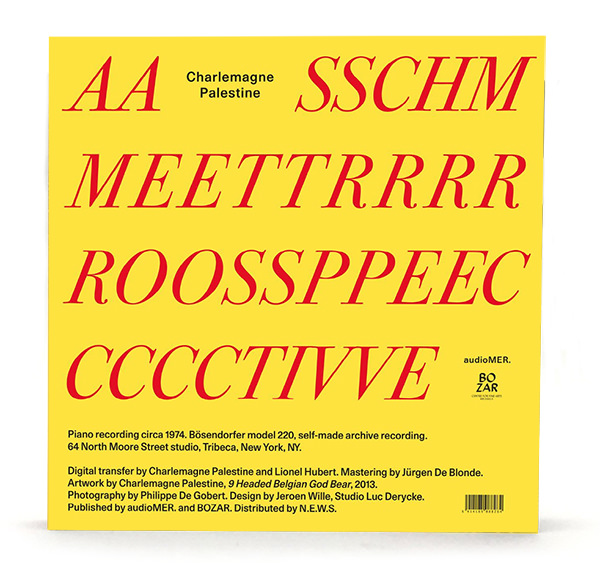 .Charlemagne Palestine was born Chaim Moshe Palestine in Brooklyn, New York of a Jewish immigrant family from Odessa and Minsk in 1947. At six years old he started to sing traditional Jewish cantorial music in the synagogue. At the New York University, he began composing electronic music at the NYU Electronic Music Studio run by Morton Subotnick where he worked with electronic synthesizer oscillators and filters which he would name "Spectral Continuum". Later Subotnick invited him in 1969 to relocate to Los Angeles and participate in the creation of a new radical school for multimedia, arts, music, dance, and theater known as the California Institute of the Arts. There he met happening artist inventor Allan Kaprow, video pioneer Nam June Paik, avant-garde composer James Tenney, fluxus artists Emmett Williams, Dick Higgins, Alison Knowles, and Judson Dance Theatre member and artist Simone Forti with whom Palestine created a unique music and dance form called "Illuminations" in 1970, which they have continued to perform irregularly over the last 45+ years even just recently at Centre Pompidou, Paris and MoMA, New York. At Cal Arts he developed many different practices: electronic and acoustic sound works, body performance art, video art and multimedia installations. With Forti he was invited for the first time to Europe to perform in a festival in Rome in 1972 where he met La Monte Young, Philip Glass, Steve Reich, and Terry Riley. With his revolutionary solo piano work Strumming Music (1974), he was included in the new musical trend known as minimal music.
Cat. number: AUDIOMER 020LP
Year: 2018
Notes:
Piano recording circa 1974. Bösendorfer model 220, self-made archive recording. 64 North Moore Street studio, Tribeca, New York, NY. Artwork by Charlemagne Palestine, "9 Headed Belgian God Bear", 2013. Released on the occasion of Charlemagne's exhibition "AA SSCHMMETTRROOSSPPECCTIVVE", in BOZAR, Centre for Fine Arts, Brussels, from 18 May till 26 August 2018. Limited edition of 400 copies.