1000 pictures and documents from the work and life of
Charlemagne Palestine
explode from the pages of the book, superimposed in 'strumming' layers, weaving the historical & present, works & performance, private & public into a tightly knit sschmmettrroobookk. Texts by
Michel Baudson
and
Xavier Garcia Bardón
.
In 1974, the Belgian cartoonist Hergé, a great admirer of American avant-garde art, and Karel Geirlandt, the new director of the Centre for Fine Arts, invited Charlemagne Palestine to perform in Brussels, after discovering him on a prospecting trip to New York. Having witnessed the artist in performance, they were impressed by the "total art" nature of his work, and the physical power of his presentation. Surrounded by a multitude of stuffed animals arranged like so many alter egos, Charlemagne strummed his piano into a trance. Marking the entry into office of the newly appointed director, the concert in Brussels would leave a lasting impression on everyone who attended.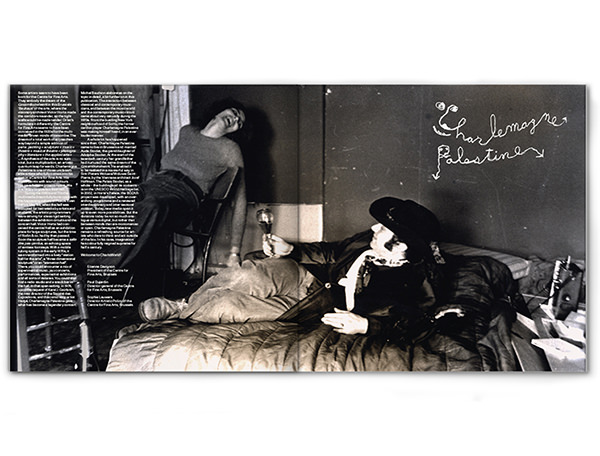 Forty-four years later, the total artist (Gesamtkünstler) is now returning to the total Work of Art and Architecture (Gesamtkunstwerk) conceived over a century ago by architect Victor Horta – to install what he calls his "CharleWorld": a universe where his works unravel animist stories and tales of adventure, teasing and reinventing the art deco sobriety of the original design of the building, and all these magical sparks that this encounter produces are then multiplied to infinity in magical halls of wonder.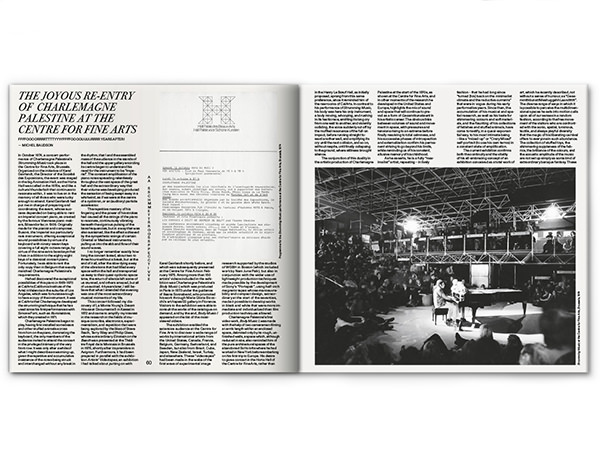 Charlemagne Palestine was born Chaim Moshe Palestine in Brooklyn, New York of a Jewish immigrant family from Odessa and Minsk in 1947. At six years old he started to sing traditional Jewish cantorial music in the synagogue. At the New York University, he began composing electronic music at the NYU Electronic Music Studio run by Morton Subotnick where he worked with electronic synthesizer oscillators and filters which he would name "Spectral Continuum". Later Subotnick invited him in 1969 to relocate to Los Angeles and participate in the creation of a new radical school for multimedia, arts, music, dance, and theater known as the California Institute of the Arts. There he met happening artist inventor Allan Kaprow, video pioneer Nam June Paik, avant-garde composer James Tenney, fluxus artists Emmett Williams, Dick Higgins, Alison Knowles, and Judson Dance Theatre member and artist Simone Forti with whom Palestine created a unique music and dance form called "Illuminations" in 1970, which they have continued to perform irregularly over the last 45+ years even just recently at Centre Pompidou, Paris and MoMA, New York. At Cal Arts he developed many different practices: electronic and acoustic sound works, body performance art, video art and multimedia installations. With Forti he was invited for the first time to Europe to perform in a festival in Rome in 1972 where he met La Monte Young, Philip Glass, Steve Reich, and Terry Riley. With his revolutionary solo piano work Strumming Music (1974), he was included in the new musical trend known as minimal music.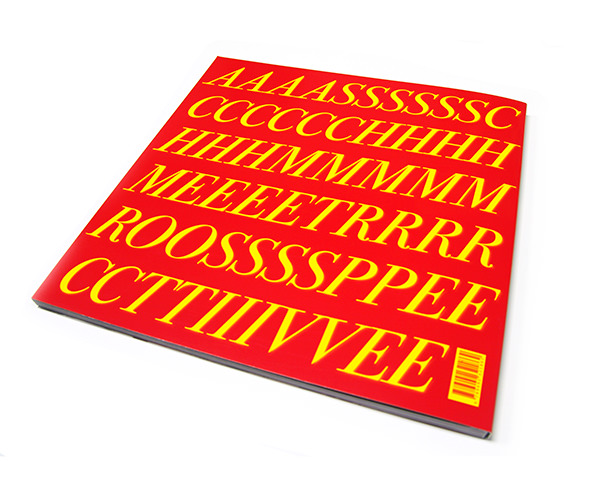 Cat. number: 9789492321862
Year: 2018
Notes:
132 pages / 31,2 x 31,5 cm