Outstanding!!! A huge document of this incredible year in jazz in Germany – a time when free styles were breaking out all over, alongside some of the groovier styles of the MPS scene as well! This beautiful box documents the 12th German Jazz Festival in three different concerts – amazing music that really shows the transformation that was taking place at the time – and which is still revolutionary all these many years later – making for a listening experience that makes us feel like we're hearing music from the future, and not over 40 years in the past! The range of performers here is amazing – and CD 1 features a long performance The German Festival Big Band – with reeds from Emil Mangelsdorff, Heinz Sauer, Joki Freund, and Gerd Dudek; trombones from Albert Mangelsdorff and Peter Herbolzheimer, trumpets from Frederic Rabold and Manfred Schoof, guitar from Volker Kriegel, bass from Gunter Lenz, and drums from Kurt Bong and Rolf Hubner – plus four long tracks from the Dave Pike Set, with stellar vibes and guitar! CD2 features the Albert Mangelsdorff Quartet, with trombone from the leader, and alto and tenor from Heinz Sauer – plus a group led by Wolfgang Dauner on piano, clavichord, and ring modulator – with Ack Van Rooyen on trumpet, Joki Freund on tenor and soprano sax, Peter Herbolzheimer on trombone, and Gerd Dudek on flute and tenor.
CD3 features Karin Krog singing on two long tracks penned by Dave Pike, who plays vibes in a group that also includes Albert Mangelsdorff on trombone – and the rest of the CD features Phil Woods European Rhythm Machine, with Gordon Beck on Fender Rhodes. CD4 features two long tracks by the Klaus Doldinger Quartet with Ingfried Hoffmann on organ; three more tracks from the Frederic Rabold Crew, with the leader on trumpet and alto horn; and one more track from the Jazzworkers Quintet. CD5 features the Frankfurter Trio Fur Improvisation, with Christian Mollers on clarinet, Wolf Burbat on flute, and Klaus Henning Usadel on bass – plus one long track by Just Music with Alfred Harth on tenor and clarinet, Johannes Kramer on guitar, Dieter Hermann on trombone, and Franz Volhard and Thomas Stowsand on cellos – as well as two tracks by the Modern Jazz Quintet Karlsruhe, which features Herbert Joos on flugelhorn and Wilfried Eichorn on reeds. CD6 features a long track by Free Jazz Group Wiesbaden – and another long track from Limbus 4 – a group that features a lot of flutes, percussion, and diverse instrumentation.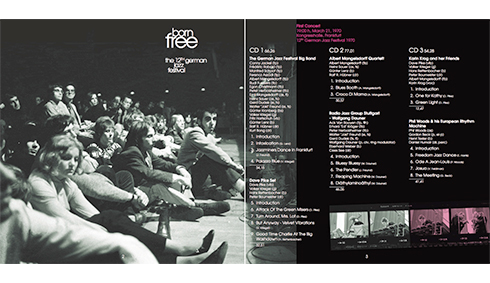 CD7 features a reading of "F*ck Der Boere" by the Peter Brotzmann Group, which also includes Evan Parker and Willem Breuker on reeds, plus Malcolm Griffiths and Paul Rutherford on trombone – as well as Derek Bailey on guitar and Han Bennink on percussion. The CD also features a long track by the New Jazz Trio of trumpeter Manfred Schoof.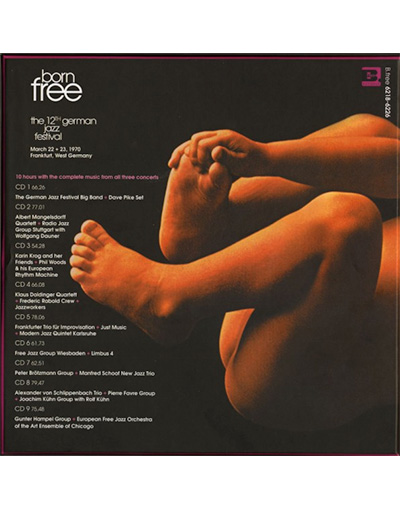 CD8 features work by the Alexander Von Schlippenbach Trio, the Pierre Favre Group, and the quartet of Joachim & Rolf Kuhn. CD9 is maybe the most amazing – as it features a long track that merges German players with the Art Ensemble Of Chicago – billed as the European Free Jazz Orchestra Of The Art Ensemble Of Chicago – as well as work by Gunter Hampel with Jeanne Lee. An insanely wonderful package – filled with free, avant, and groovy jazz we've never heard before!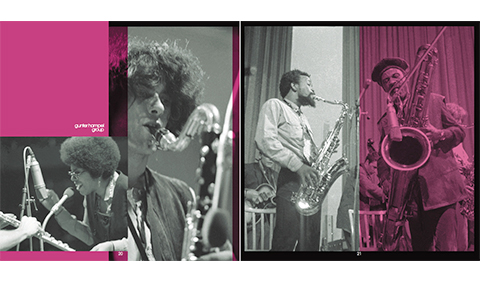 Cat. number: B.free 6218-26
Year: 2015
Notes:
Box Set (27" x 27 x 2,5 cm) contains a 32-page booklet with previously unseen concert pictures.
Limited edition.