Best of 2016
Immagini per Diana Baylon
Label: Die Schachtel
Format: LP
Genre: Library/Soundtracks
In stock
Small repress available.  The long and mesmerizing single piece of analogue electronic music that develops over the two sides of the latest Die Schachtel "silver series" LP is a soundscape composed by Teresa Rampazzi for the artist Diana Baylon's 1972 exhibition at the modern art gallery "Il Fiore" in Florence (Italy). Diana Baylon (1920-2013) was a cross-disciplinary artist active in abstract and programmatic art. In the summer of 1969 she appeared – along with with Alberto Burri, Pablo Picasso, Jean Dubuffet and Lucio Fontana – at the Festival dei Due Mondi di Spoleto exhibition «Maitres et jeunes d'aujourd'hui».

Italy's equivalent to Delia Derbyshire, Teresa Rampazzi (1914-2001) has enjoyed a resurgence of recognition in the past decade and has taken her well-deserved place as one of the pioneers of electronic and computer music. A former avant-garde pianist (having taken part in performances with John Cage since the late 50s), Teresa was exposed to electronic music "exactly as its birth" – as she once said during a concert of recorded tape music in Darmstad in 1952. She decided to produce electronic music at the age of 50 and she founded the N.P.S. Group (Nuove Proposte Sonore), which became one of the main Studios active in Italy alongside Pietro Grossi's in Firenze and Enore Zaffiri's in Turin. Unlike Grossi and Zaffiri, whose work took a structured and systematic approach, Rampazzi's music explored sound densities, drones and textures, often integrating environmental sounds and undulated electronic patterns to create organically structured soundscapes.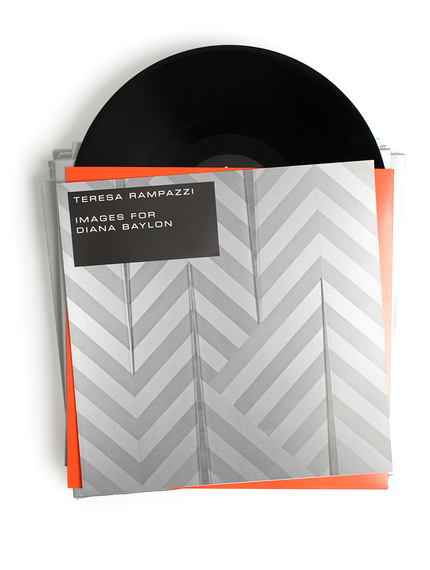 For the 1972 exhibition, Teresa Rampazzi realized this long 'soundtrack' (in her words) to be broadcasted in loop. Sounds were made with the analogue equipment she used at the time, revealing her stylistic tendency to create a pulsing, drone-like  sequence of harmonizing electronic tones. «The inner space of the exhibition» – she wrote – «is made of sound, for the whole duration of the exhibition. The work is composed by a series of sound events, with both informal and aleatory features, in a continuous flux, and there is no planned predetermination in any of the various sections. This choice has been made for the sound space to adjust to the sculptor's plastic and loose images» .
Immagini per Diana Baylon was in fact the third time Teresa Rampazzi realized music for an exhibition. The first was also the very first experimental composition that Rampazzi and Ennio Chiggio composed in 1965, a sound collage for the opening of an exhibition of the Gruppo Enne at the International Biennale d'Arte in Venice. The second soundscape piece, Environ (1970), was realized for the presentation of a 360° round modular couch in foamed resin designed by Chiggio, presented at a furniture shop in Padova in 1970. The piece is featured on the Die Schachtel Musica Endoscopica LP by Teresa Rampazzi released in 2009. Immagini per Diana Baylon is the eigth LP release in the Die Schachtel series dedicated to the pioneers of early Italian electronic music and will be soon followed by Mario Bertoncini's Arpe Eolie LP and Arke Sinth, a radical electronic music enesemble active in Padua in the late 60s.