Edition of 80 copies, with inserts and and a photo of exhibition in 1974 in hardboard carton. signed and numbered limited to 80 copies (60 copies on sale). "Number of Sheep Who Jumped over the Fence" by Fumio Takamizawa was originally presented in 1974. Throughout the history of Japanese art, there has been artists that filled museums, galleries, studios and other public spaces with all sorts of sounds. In most cases, however, once the sound faded, it couldn't be heard again. Within Japanese art history, which has been mainly reliant on visual archives, information concerning sound has been often left in a fragmentary state.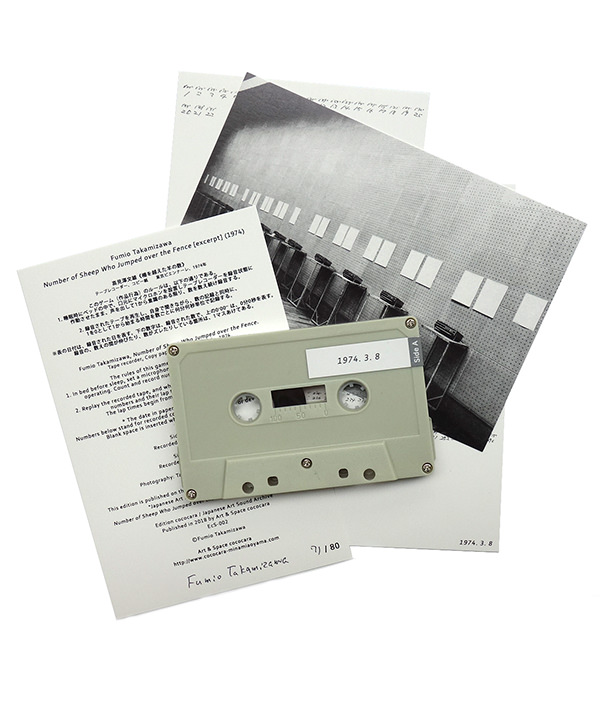 Sound Archives of Japanese Art is a project that aims to collect those often inaccessible sound activities of the past and make them more accessible for consultation.

The project consists of the gathering and classification of information related to sounds created by artists, including interviews with artists and people who witnessed them producing the sounds, bibliographic surveys, recorded materials preserved by the artists themselves, as well as discourses surrounding those works. The project also offers opportunities to reproduce or re-enact soundpieces from the past, either by the artist themselves or our supporters, and present them in multiple forms, ranging from vinyl records to events and exhibitions. The project is devoted to building the foundations needed to examine the meanings of sound in Japanese art, as well as facilitating the cultivation of its potentials.


In Japan, it is said from long ago that it is effective when you can not sleep. While counting the number of sheep, the artist recorded the process of his falling asleep.

The rules of this game (artwork) are as follows,
1. In bed before sleep, set a microphone near the mouth and keep a tape recorder operating. Count and record numbers from 1 as far as staying count 1.
2. Replay the recorded tape, and while listening, write down both the counted numbers and their lap times and seconds. The lap times begin from 0'00" with the staying count 1.