This Accidental Co-action as an Incident 1972
Limited 100 copies, signed and numbered. As a co-action by Norio Imai, Toru Kuranuki, and Saburo Muraoka, we inject the sound of our heartbeats into a street corner for 10 days from July 20th, 1972. The heatbeat sound is transmitted through three sets of equipment that respectively consists of a tape recorder inside this cafe, a speaker on its roof, and an oscillograph in its show window. In this co-action street noise and the rhythm of human as a living matter interpenetrate each other.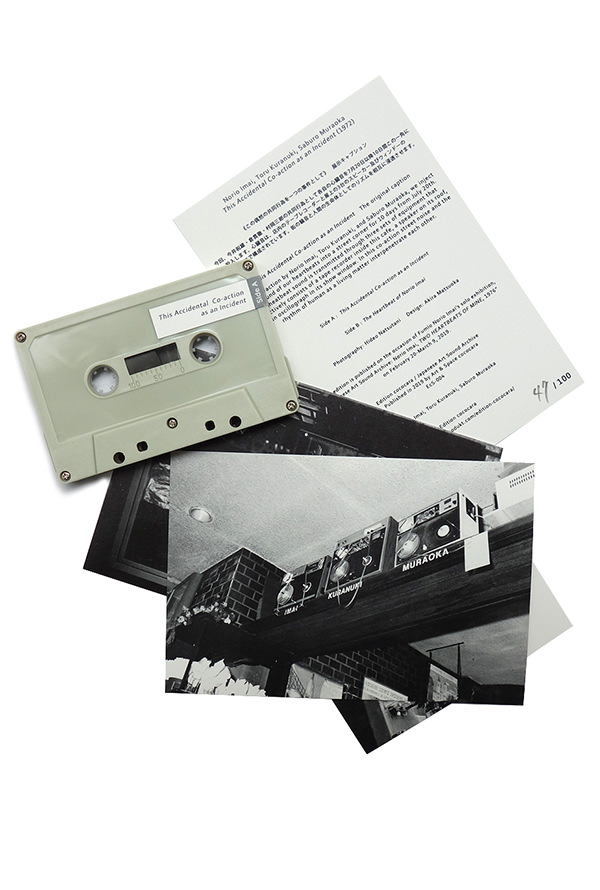 Sound Archives of Japanese Art is a project that aims to collect those often inaccessible sound activities of the past and make them more accessible for consultation.

The project consists of the gathering and classification of information related to sounds created by artists, including interviews with artists and people who witnessed them producing the sounds, bibliographic surveys, recorded materials preserved by the artists themselves, as well as discourses surrounding those works. The project also offers opportunities to reproduce or re-enact soundpieces from the past, either by the artist themselves or our supporters, and present them in multiple forms, ranging from vinyl records to events and exhibitions. The project is devoted to building the foundations needed to examine the meanings of sound in Japanese art, as well as facilitating the cultivation of its potentials.