Limited 80 copies, signed and numbered. Legendary 1972 recordings by the conceptual artist Kenichiro Ina. The work uses sound as a medium to record human's simplest and most primitive acts, "walking" and "staying," through a definite period of time. Sounds captured by cassette recorder themselves only refer back to what they originally indicate. However, to put recording between self and the world (things except one's self) would enable the contemplation of phenomena between a subject and its externalities, or phenomena outside the recorded. Throughout the history of Japanese art, there has been artists that filled museums, galleries, studios and other public spaces with all sorts of sounds. In most cases, however, once the sound faded, it couldn't be heard again. Within Japanese art history, which has been mainly reliant on visual archives, information concerning sound has been often left in a fragmentary state.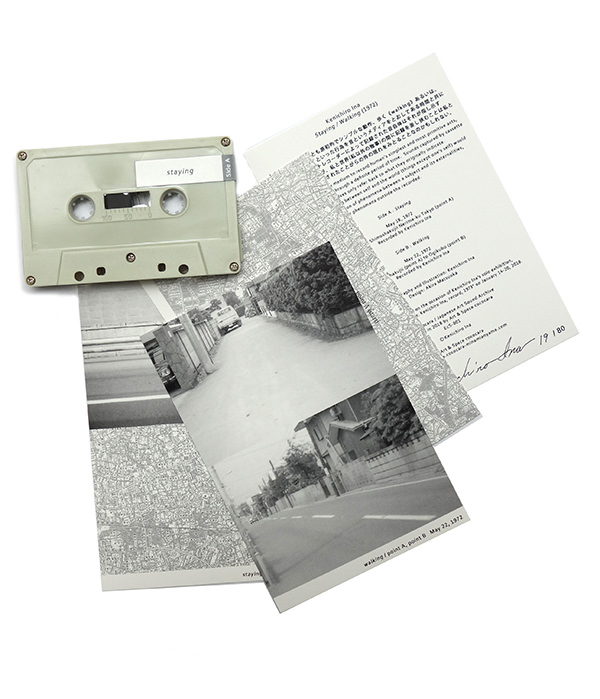 Sound Archives of Japanese Art is a project that aims to collect those often inaccessible sound activities of the past and make them more accessible for consultation.

The project consists of the gathering and classification of information related to sounds created by artists, including interviews with artists and people who witnessed them producing the sounds, bibliographic surveys, recorded materials preserved by the artists themselves, as well as discourses surrounding those works. The project also offers opportunities to reproduce or re-enact soundpieces from the past, either by the artist themselves or our supporters, and present them in multiple forms, ranging from vinyl records to events and exhibitions. The project is devoted to building the foundations needed to examine the meanings of sound in Japanese art, as well as facilitating the cultivation of its potentials.