Live recording at the Rotonda del Pellegrini, Milan, January 21st, 1959 featuring John Cage, Morton Feldman, Juan Hidalgo, Leopoldo La Rosa, and Walter Marchetti. Among all the events involving John Cage during the long stay in Europe that followed his controversial appearance at Darmstadt Ferienkurse in September 1958, the concert he held in Milan on January 21st perhaps represents a less well known episode.
Featuring Cage's intervention both as composer and performer of one's own work as well as of two piano pieces by Morton Feldman, the concert at Pellegrini's Rotonda may be considered the first event of experimental music in Europe in which the presentation of American and European composers consciously acted on an equal aesthetic horizon. Both the set of pieces in the program and the peculiar environmental frame of the concert emphasized the radical aesthetic conceptions of the compositions performed. Cage's choice was highly representative and relapsed into those works of his recent catalog that represented conscious neutralization of compositive intention. "Duo" opens the concert, consisting of parts for flute and viola excerpted from his celebrated "Concert for Piano and Orchestra."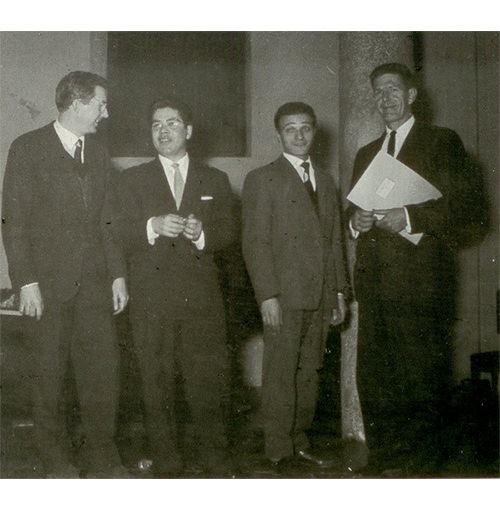 Cage then completed his participation in the concert, besides performing some unspecified numbers from "Music for Piano," also performing two of the three "Piano Pieces" with which Morton Feldman, in 1954, was converted to adopt the aleatory graphic notations. Juan Hidalgo, Walter Marchetti, and Leopoldo La Rosa premiered six compositions purposefully written for this occasion, employing aleatory procedures for the first time in their works. Both Hidalgo and Marchetti wrote a trio and a quartet firstly following a common notational stylization, which provides the spatial distribution of a prearranged, but reversible sequence of intervals within a flexible temporal grid, structured on a time limit. Exploiting the circular architectonic structure of the concert hall, all the performers were spread abroad among the audience, with the piano exactly in the center.
The concert at Pellegrini's Rotonda was characterized by the performance of works that accepted the indeterminacy as their own operative premise, but also for having been a collective event in which the individual contribution of each composer mutually acted as autonomous elements. The edition includes a 36-page essay with photos and full documentation of the event.