In the years following his reemergence into the world of music in the 1990's, until his untimely death last year, Tony Conrad was a towering presence in American experimental music. He was it's grand patriarch. A monolith. A beam of light shining on the future and past. Beginning with his efforts during the early 1960's, Conrad set the terms for how experimental practice is currently understood and pursued, yet with a vision and being so completely focused on the present, it was often hard to remember how long he had been in our midst - how vast the remarkable body of work, that he left in his wake. Though incredibly active during 1960's and 70's, recordings from that era are rare, making Superior Viaduct's release of Ten Years Alive On The Infinite Plain a momentous event. An album of such remarkable importance, that we are unlikely to see anything like it, anytime soon.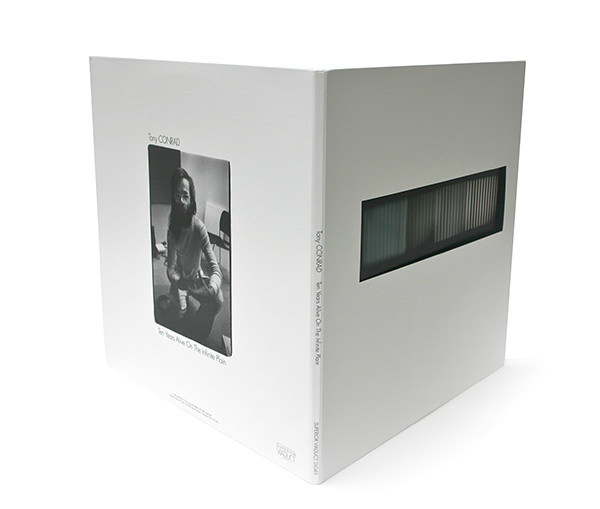 Ten Years Alive On The Infinite Plain is among the most renowned, within Tony Conrad's astounding body of works - the near equal to Outside The Dream Syndicate, and Four Violins. It also occupied a special place in the artist's heart. It was among the first of his earlier works, which he returned to following his reemergence - recording and releasing a new realization with David Grubbs and Jim O'Rourke in 1995. He staged it regularly, with different ensembles, until the end of his life. From the beginning, Conrad was always an artist who worked across many fields - dividing his efforts between sound, text, music, film, and the objects of fine art. Ten Years Alive On The Infinite Plain is a crucial bridge within this body of work. Equal to his fame in music, Conrad is one of the most important voices in the history of Structuralist film. While all of his early film works offered equal place to sound and image - The Flicker, Film Feedback, Straight and Narrow, what Ten Years Alive attacked is incredibly rare, and well ahead of its time - the temporal dynamics of chance and the fleeting moment, realized when performing live. Staged with two other musicians and a quartet of 16mm projectors - a writhing sea of image and sound, it is arguably the greatest total offering, of what made Tony such a seminal figure in the history of art.

Superior Viaduct's issue of Ten Years Alive On The Infinite Plain, an astounding previously unreleased recording from the work's premier at the Kitchen in New York during 1972, is staggering. Highlighting Conrad's love of collaborations, it also features the contributions of two other seminal figures in the history of radical music - Rhys Chatham and Laurie Spiegel. Beyond its remarkable sounds, it is daydream worthy snapshot into New Yorks avant-garde community of the era. It features Conrad on violin, with Chatham playing the Long String Drone – a 6-foot long strip of wood with bass strings, electric pickup, tuning keys, tape, rubber band and metal hardware, and instrument which Conrad build and designed, and Spiegel, performing on a similar hand made device, issuing arrhythmic bass pulse throughout. A fractured, staggering sister of Outside The Dream Syndicate, recorded the same year with Faust, Ten Years Alive On The Infinite Plain is stunningly beautiful in the way that few things can ever be. A grinding, droning, pulsing casual of such historical importance that it makes the heart slip a beat. The latest entry in Superior Viaduct's stunning dedication to the historic avant-garde. Available as a double CD or double LP, unquestionable one of the greatest releases of the year.