Unwinding history - catching a glimpse of its truths, can be a near impossible task. There's an understandable tendency to look in the obvious places, seeking generality and concise definition to guide the way. While this presents obvious paradoxes within the fields of avant-garde sound practice and experimental music - territories which, by their very nature, are resistant to genre, categorization, and definition, the impulse persists, allowing strange and singular free-standing efforts to slip through the cracks. This has long been the case for the remarkable sounds generated by Basil Kirchin, a composer who, until recently, history has largely ignored. Having fallen within the loving gaze of the San Francisco based Superior Viaduct - part of their broad effort to draw attention to remarkable and neglected gems from the histories of underground and avant-garde musics, the label returns with a beautifully produced reissue of Kirchin's seminal 1974 LP, Worlds Within Worlds.
A likely reasoning for the absence of Basil Kirchin within historic narratives, is the breadth of territory his work bridged, and the fact that it resisted well defined notions of genre and movement. He began is life as a musician during his early teens, when, like his friend Derek Bailey, he got his start playing in jazz dance bands in the north of England. A drummer by trade, his recording career began within his father's big band, before producing a number of releases for the library music imprints Music De Wolfe and KPM Music. Despite of the quality of these releases, had Kirchin stopped there, it's likely that he would have remained even more overlooked.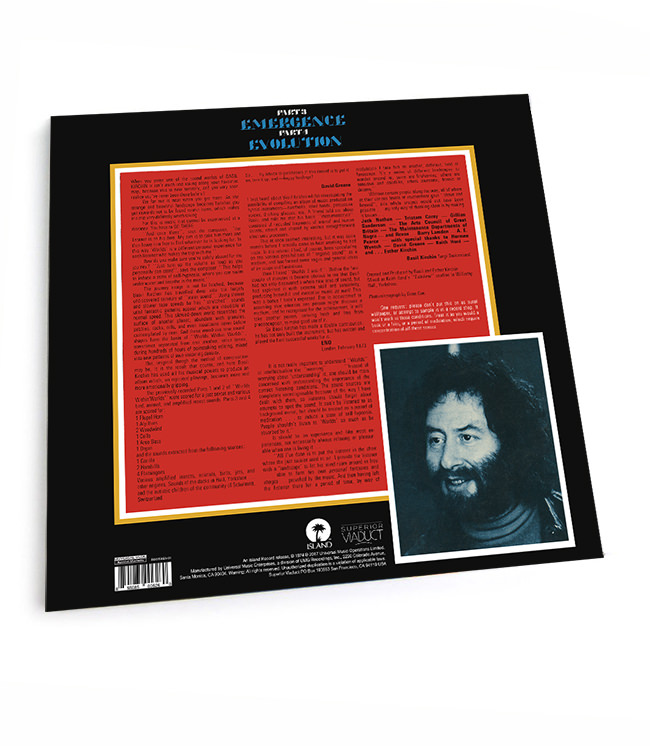 In 1971, already in his mid 40's, Kirchin ventured radically afield, releasing the first installment of Worlds Within Worlds. The product experiments which he had begun in 1964, juxtaposing instrumentation with the sounds of nature, it notably featured contributions by Derek Bailey and Evan Parker, and remains one of the great unheralded documents of the English avant-garde. The second installment of this effort - equally singular and important, and the reissue of which now rests in our hands, was issued in 1974, pushed the blossoming composer's ideas into incredible realms. Scored for a range of instruments - Flugel Horn, Alp Horn, Woodwind, Cello, Arco Bass, Organ, and the sounds of Gorillas, Hornbills, Flamingos, amplified insects, animals, birds, jets and other engines, the docks of Hull, and autistic children, it harasses the potential activated by Musique concrète and electronic process, but radically breaks with their orthodoxies, creating an astounding genre defying hybrid - a construction of sound which joins the extremes of avant-garde thought with the free-form spirit of the underground and counterculture.
A true product of its era, Worlds Within Worlds is a category defying sonic adventure, realizing an entire spectrum of conceptual sound which the early avant-garde could have only dreamed of. A brilliant writhing world of structured ambience which entirely rethinks the terms and definitions of its primary elements, creating stunning abstraction from existing acoustic phenomena. Widely overlooked for far too long, Superior Viaducts beautiful edition, complete with the original liner notes written by Brian Eno, represents the first reissue since its original 1974 pressing. As wonderful and important as reissues come. Grab it fast. This one won't sit around for long.
As Brian Eno writes in the liner notes on the original release, "Within the first couple of minutes it became obvious to me that Basil had not only discovered a whole new area of sound, but had exploited it with extreme skill and sensitivity, producing beautiful and evocative music as well.... So Basil Kirchin has made a double contribution: he has not only built the instrument, but has written and played the first successful works for it."