2017 release. In celebration of the 50th anniversary of Frank Zappa and the Mothers of Invention's classic, groundbreaking 1967 album Absolutely Free, the Zappa Family Trust has released an expanded, vinyl-exclusive edition of the album in double-LP pressed on shiny black 180gram vinyl, mastered by Bernie Grundman, and cut directly from the original analog master tapes.
While the first disc offers the original album in all its glory, the second disc in the set features twenty minutes of rare and unreleased bonus material from the seemingly-endless Zappa vaults, including radio ads, vintage remixes, and the album's original single release of "Don'tcha Do Me Right?" b/w "Big Leg Emma." The flip side of the second disc features a laser-etching of Zappa's infamous visage and the album itself features Zappa's original graphic layout and a reproduction of the album's rare, highly sought-after "libretto," an 18-page booklet with a foreword by Zappa and lyrics to all the songs which was originally only available by mail when the album was released.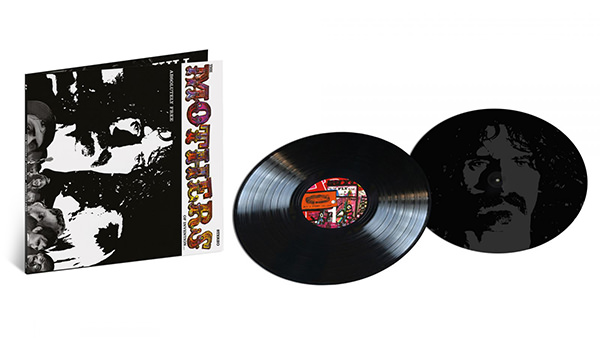 Released on May 26, 1967 by Verve Records and produced by Tom Wilson (Velvet Underground, Bob Dylan), Absolutely Free was the Mothers' sophomore effort and the follow-up to the previous year's landmark debut Freak Out! Expanding the band to include guitarist Jim Fielder, keyboardist Don Preston, drummer Billy Mundi, and horn player Bunk Gardner along with the original Mothers cadre of singer Ray Collins, bassist Roy Estrada, and percussionist/drummer Jimmy Carl Black ("the Indian in the group…"), Zappa delivered a scorching musical snapshot of life in America during the swinging '60s, offering his usual acerbic, satirical takes on the counter-culture and the mainstream alike. Matching his complex, often aggressive musical compositions with frequently-hilarious and surrealistic lyrics, Zappa delivered a baker's dozen of timely and timeless songs.