There was never anyone like Maria Monti – and this album is a true testament to her genius! Il Bestiario might be best understood next to albums by artists like Brigitte Fontaine, Scott Walker, and Catherine Ribeiro, all of whom began their careers within the saccharine confines of popular music, before embarking on some of the most revolutionary recordings of the era. It enlisted the radical poet Aldo Braibanti (a man defined "the lone true Italian genius" by another bona fide mastermind, actor Carmelo Bene) as its lyricist, features the arrangements and synthesizer contributions of avant-garde composer, and Musica Elettronica Viva member, Alvin Curran, as well as entries on saxophone by Roberto Laneri of Prima Materia fame, and free jazz legend Steve Lacy. The line up alone, setts a remarkable and historic stage.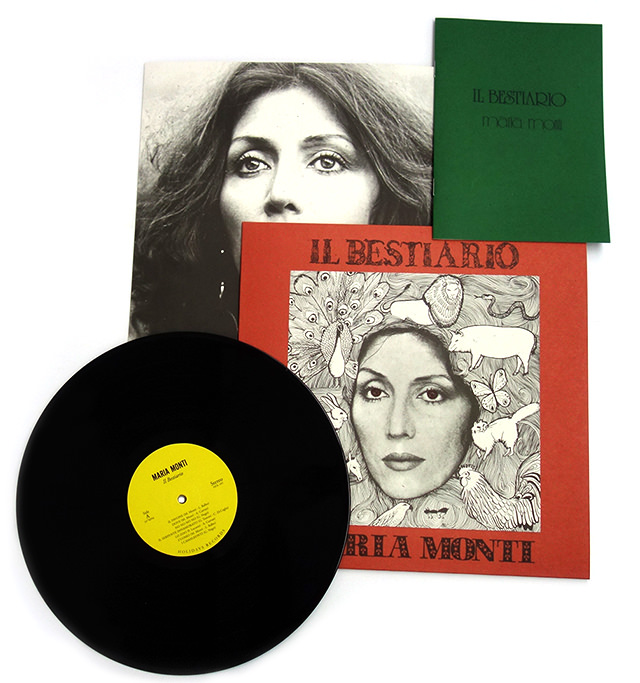 While the creative ferment of the 1960's and 70's is celebrated far and wide, particularly growing from the vinyl reissue market, there's an increasing awareness that the standing historic narratives fail to capture depth, diversity, and depth of what occurred. Groundbreaking gestures crisscrossed the globe, entering unexpected contexts and leaving remarkable and singular artifacts in their wake. Of all the radical sonic realities occurring during this period, among the most neglected is the swell of unparalleled ambition which took place in Italy. Only recently, decades after they were swallowed by the shadows of time, these sounds have begun to creep past the county's borders - the unveiling of an astounding context, which almost no one knew occurred. Italian music from this period  - be it rock or avant-garde, is distinct. Unlike its cousins across Europe and America, it often became wilder and more ambitious as the 70's wore on - increasingly radical with each passing year. There is perhaps no better example than Maria Monti's legendary Il Bestiario, the album whose long awaited reissue, rests before us now.

Il Bestiario is a near perfect emblem of the fascinating territory gained through collaboration. Musically, it is unique within the respective outputs of its participants' long and noted careers. Braibanti's wild, hallucinatory lyrics are delivered by Monti with a tender complexity which dances with equivalency to most remarkable folk singers of that era - Bridget St John, Vashti Bunyan, Emmanuelle Parrenin, etc, while Curran, Laneri, Lacy, and guitarists Luca Balbo and Tony Ackerman's interplay is stunning - ranging from the intricacy of free improvisation and experimental music, to melodic ambiances, flirting with the rising New Age movement. The result is absolutely stunning. Unquestionably one of the most beautiful and neglected albums of its decade. Original pressing are as rare as they come, and it's never appeared on vinyl since it's 1974 release, making this a momentous event. We tip out hats to Holidays for bring it back.
Absolutely essential on every count. Not to be missed by fans of folk music and the avant-garde alike.