"La casa del lago" came out just a year after Saint Just's eponymous debut album; in 1973 the band were a very special trio, consisting of Jenny Sorrenti (voice), Antonio Verde (guitar) and Robert Fix (saxophone). They had a contract with Harvest (as well as Jenny's brother Alan Sorrenti, who debuted with "Aria" the previous year), and managed to stand out in the vast Italian pop scene of the early '70s.

Unlike many other musical realities, they had a concrete support from the record label, which allowed them to play a lot around Italy, and to take shelter in this 'casa del lago' - house by the lake - where they wrote this second and last album. Robert Fix had left the trio, and Saint Just then turned into a full band, with the addition of drummer Fulvio Maras and guitarists Tito Rinesi and Andrea Faccenda: the result is a decidedly more rock-oriented LP, with many different influences, on which rises again the ethereal Jenny Sorrenti's voice, that has nothing to envy to the more well-known folk singer of the time (Sandy Denny, for example).

Unfortunately, "La casa del lago" is already the last Saint Just's record - if we exclude some recent sporadic returns to the scene - and we can only imagine what other classics they could have written if they went on their way. Unfairly overshadowed by certain 'conservative' opinions on the beauty of its predecessor, it is a beautiful album to be rediscovered and re-evaluated!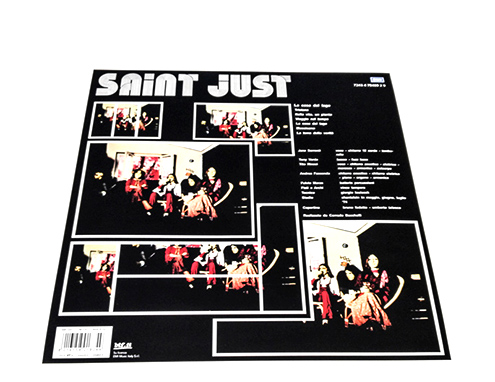 Faithful reprint of the original 1974 edition blue vinyl.