**Mindblowing edition, comes with a 40 page booklet** What can be said about Éliane Radigue? International treasure? Sonic saint? The most important composer living today? Even these grand designations fall short of doing the composer the justice she deserves. Born in 1932, beginning her life in music in Paris during the late 1950 and early 60's, working under Pierre Schaeffer and Pierre Henry, for more than half a century she has carved a singular path in sound, sculpting one of the most astonishing bodies of work that the world has ever seen - transcending the efforts of her teachers and nearly anyone else. We are thrilled to announce a brand new double CD set - Occam Ocean Vol. 1, the first recorded instalment of the sprawling, remarkable, and evolutionary work which has occupied much of her focus in recent years. Issued within the French imprint Shiin's already remarkable catalog, it is nothing short of a historic event. 

Éliane Radigue is an entirely unique figure in the history of 20th Century avant-garde music, continuously defying expectation and standing presumption of what music is, within and without the bounds in which she works. Her efforts spring from another era of intellectual and creative optimism - mediations which join life and art as a single force. Drawing on her inward passage as a practicing Buddhist, until the early 2000's, Radigue almost entirely dedicated herself to an intimate relationship with her ARP 2500 - exploring it endlessly, composing a body of long form works so discrete, elegant, and subtle, that nothing like them has yet to appear in the world. Across the decade or so since, she has set her chosen instrument to the side, focusing on compositions which engage others in challenging new ways, working with and for small groups of musicians. the first four movements of Occam Ocean, spread across these two CDs, is the result of one such journey.

Clocking in at roughly an hour and forty-five minutes, like so much of Radigue's work, Occam Ocean, is a slow, meditative, durational exploration in sound - a watercourse with its own gravity, drawing the ear into its depths. Growing from her long standing investigation of subharmonics - sounds within the sound, time is an inescapable force, unfolding on multiple planes - that of the work itself, the lifetime it has taken to get here, and the temporal inter-dynamics of the sonorities themselves. Because of how it has been realised - using only oral and aural transmission with her collaborating performers, Occam Ocean opens a crucial window into Radigue's entire body of work - that sound is followed rather than guided into its final form. The work was composed through a process in which Radigue invited each member of the incredible ensemble -  Rhodri Davies, Carol Robinson, and Julia Eckhardt, to her at home - further linking art, with the generosity and life which runs through her entire practice, where, one-by-one, they devised their parts collaboratively. The point of arrival is stunning beyond belief - a shimmering, pulsing, droning word of harmonic interplay which should stop the entire history of Minimalist music in its tracks.

Contained within the first four phases of Occam Ocean - the totality of which will reach a body of 22 infinitely combinable solos, spread across over 20 chamber pieces, is one of the most miraculous efforts in sound created so far this century. A marvel from one of the most important composers the world has ever known. As essential as it comes. Witness history in the making, fall into its depths, and return changed by the unexplored meanings of art.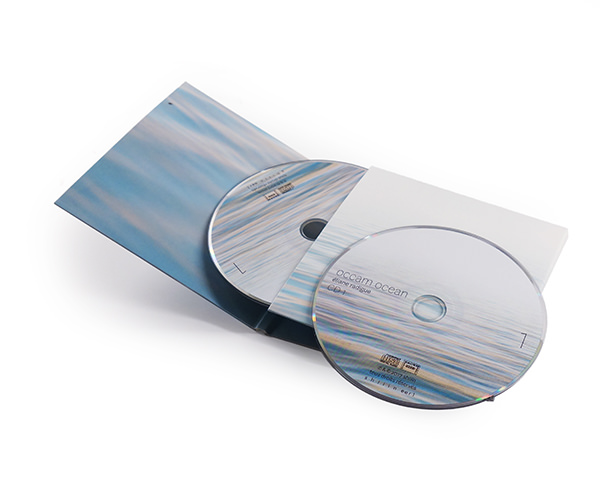 "It all began with an image seen so long ago at the Natural History Museum in Los Angeles, the image of a long chart showing known wavelengths. It was clear that in addition to the wavelength from the earth to the sun, there were long waves stretching between other planets, solar systems and galaxies. Our immersion in this wave-filled universe makes our heads spin. In the same way, our bodies are also driven by undulations and multiple rhythms. It is just as dizzying to move toward the minute: X-rays, gamma rays and other "nanos." In these unfathomable dimensions, there is also that very tiny regionn between 50 and 60 Hertz, and for some species up to 12,000 Hz or more, where these vibrations become sounds.
To avoid succumbing to this dizziness, closer to us on this earth, there is the ocean. Through this ocean, contemplation becomes more accessible. Beyond its own cycle, it also gathers the rivers that nourish it. For that reason there are many river themes in the Occam pieces: tributaries, waterfalls, springs, wells, etc. All of the themes are inevitably associated with water. It is the element that moves through them, the image of life, life in its fluidness, like the flow of blood.
What I ask of the musicians is highly demanding. Rather than the virtuosity of speed, it concerns the virtuosity of absolute control of the instrument, an extreme, subtle and delicate kind of virtuosity. What I did with my synthesizer was almost comparable. Turning a potentiometer the value of a hair could change everything. During my feedback period, the same delicate protocol was necessary when working with microphones and speakers. There is a distance that must be respected very carefully: moving too far away, the sound disappears, moving too close, the sound explodes into feedback. You have to keep everything in control. I do not renounce my electronic work, though I never accomplished anything that completely satisfied me. The end result was always a compromise between what I wanted to do and what I was technically able to do using the means available. Conversely, with these musicians, I was finally able to hear, for the first time, the music that I call "my sound fantasies."
Regardless of what is being used, the essential goal is to produce and bring out the partials, the overtones, the harmonics and sub harmonics, these vibrations in the air, not only those of the string or the breath, but the intangible contents of sound. An instrument vibrating beyond the fundamental(s) generates an extraordinary richness that turns into fascination. This calls for extreme simplicity, i.e. sounds maintained between piano and mezzo forte dynamic levels, beyond which the fundamental again becomes predominant. Hence the famous law from Occam's Razor, never overdo anything, concentrate instead on breath control, or a gentle stroke, that caress of a key or a string that is sufficient to develop and enrich this infinite universe." Eliane Radigue