This record is a lie and a failure - a triumph and truth. Such is the condition that Henning Christiansen build across his entire career.  One the 20th Century's most striking and visionary composers - perhaps the most notable of Fluxus' Danish arm, Christiansen was a radical collectivist as much as an assertive individualist - contradictory and reactionary - possessed by a singular vision which drove him down uncharted paths.

Christiansen's life, with the sprawling body of work it left in its wake, peels 20th century creative practice like an onion skin. He was exactly what his era demanded, and for this, no one knew what to do with him. Of all the composers working within the cradle of Fluxus, he is possibly the truest to its primary intent - the destruction of hierarchy, orthodoxy, and categorization - dissembling long cemented ideas about music as a participatory act, or a way of organizing sound. Christiansen was unmanageable -refusing to play by the rules. A formally trained composer who rejected the concert hall - favoring the context of fine art or spaces and sonorities which carried little baggage of their own - who wielded the hammer forged by John Cage against the exclusivities of high culture, ultimately turning it on Cage himself.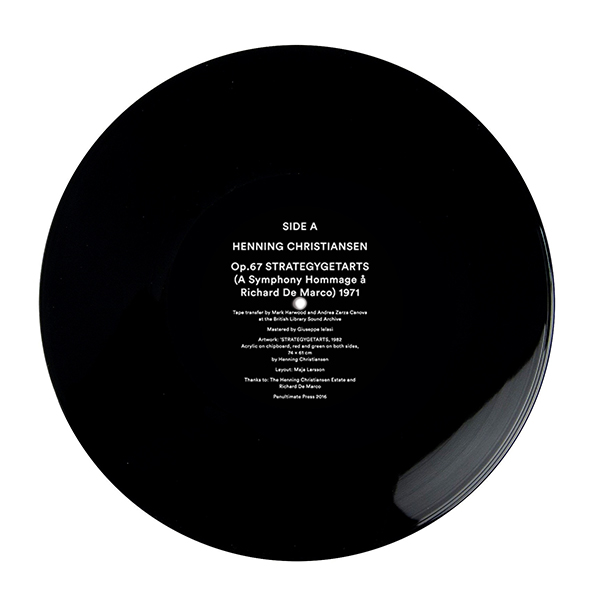 The purity of Christiansen's work and ideas cast a long shadow - a post against which his entire generation can be gauged - of how the optimisms strayed and often went wrong. It's easy to forget the idealism embedded in Modernist concerns. 12 tone technique, tape and electronic process, synthesis, chance and indeterminacy, free improvisation, just intonation, and minimalist constraint, all set out to liberate the composer and listener - smashing historic categorical understanding. Each, in their own way, embarked on almost utopian inclusive idealism, but few composers remained true to the ideals which brought them to note - proving unable to resit the tempting call of the institution, be that of self, or in the larger sense. Christiansen managed with staunch conviction, ironically forcing im into the position of outsider - a fact sketched in sound, which is unavoidable when addressing Opus 67 Strategygetarts A Symphony, Hommage A Richard Demarco. Recorded in 1971, and emerging into the public eye for the first time, it joins Penultimate Press' standing dedication to preserving the composer's important legacy.

The work is an emblem of Henning Christiansen's rigorous anti-hierarchical thinking - of the reasons he painted his ear green, reminding us to listen - to find symphonies in the natural world. A sonic collage, build from field recordings made in urban spaces and beyond - shuffling, unveiling the shadowing images of actions and space, broken and forced to join in a strange structured sense of time. No single sound or source is more important than the next - nor is structure and the hand of the artist the primary concern. What is crucial, is Opus 67's philosophy and ideas. Within them, Christiansen attacks the orthodoxies expected within similar works of musique concrète. He doesn't set out to realign the listeners ear, or offer a new conception of creative process and the world around. His is a challenge to the constraints imposed by those very ideas - to their hermetic world of rules. Christiansen changed the terms - asserting that all sound an action are fair game - there is no single process or source, and with this, he infiltrates musique concrète with music itself.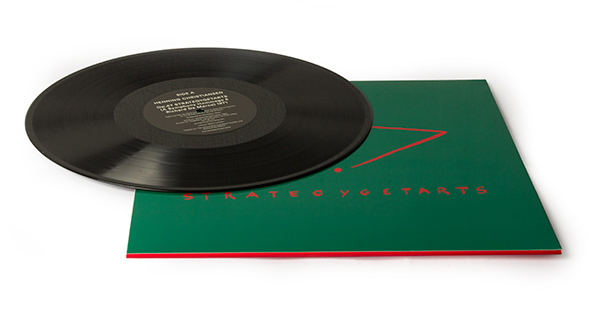 Opus 67 Strategygetarts A Symphony is a trio of flirting musicalities - the captured sonorities of the natural and urban world, encounters with the rippling melodies of street musicians, and slow punctuations on piano made by Christiansen himself. With this final action, he challenges everything we presume to know - breaking the rules, and subsequently shifting and realigning the standing narrative of  20th century organized sound. A liberated composer who liberates our ears long after he is gone. An album which stands as a striking revelation nearly forty years after it was made. These are folding moments and triumphant ideas - a symphony as a model for being - a world sculpted in sound, which is not to be missed.
Opus 67 Strategygetarts A Symphony, Hommage Á Richard Demarco is a previously unissued recording by Henning Christiansen from 1971. In 1970, the Richard Demarco Gallery in collaboration with the Kunsthalle Düsseldorf organized the exhibition, Strategy: Get Arts. This celebration of art from Düsseldorf was held at the Edinburgh College of Art during the Edinburgh International Festival. The title of the exhibition was a palindrome created by André Thomkins and featured works by Joseph Beuys, Claus Böhmler, George Brecht, Henning Christiansen, Robert Filliou, Dorothy Iannone, Mauricio Kagel, and Dieter Roth amongst others. Opus 67 Strategygetarts A Symphony, Hommage Á Richard Demarco was sent to Richard Demarco as a gift following the exhibition. Having returned to Denmark, Christiansen, along with sound technician Peter Sakse, created Strategygetarts, a sound collage incorporating field recordings from urban spaces, supermarkets, a boxing game, etc. The sole "musical" element is a piano motif which repeatedly punctuates the recordings. The first side moves forwards, the flip back. A reverse groove will set you straight. Opus 67 Strategygetarts A Symphony, Hommage Á Richard Demarco comes in a high-gloss sleeve, featuring two original artworks by Henning Christiansen; Edition of 500.