MILESTONE! Bureau B releases a limited 3LP box set to celebrate Hans-Joachim Roedelius' 80th birthday. During the legendary Forst years, Roedelius had a private workspace with a Farfisa organ, a Revox-A77 tape machine, an echo device and a synthesizer which he borrowed from the Cluster studio next door, now and again. Here he experimented, practiced, and allowed his imagination to flow at any hour of the day or night, whenever he was not in the studio with Dieter Moebius and/or Michael Rother at work on new Cluster or Harmonia material. Roedelius always let the tape run, in order to analyze the ideas thus captured more effectively on repeated listening. With the release of Tape Archive 1973-1978, for the first time ever, this Roedelius audio sketchbook has been digitalized and made available to the public. The box set offers us a deep insight into the creative process of his music. Fleeting notes, slivers of ideas, so to speak, moments of inspiration. Finger exercises, experiments in harmony, and studies in rhythm are also preserved on these magnetic tapes. Limited to 500 units: 3 LPs (180 gram vinyl) + 3 CDs, including a booklet with liner notes by Hans-Joachim Roedelius, Asmus Tietchens and Gunther Buskies.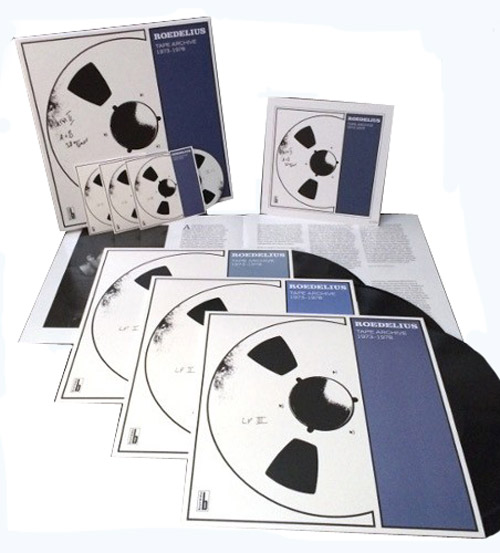 - Bureau B presents a 3LP BOX/3CD collection of music circa 1973-1978 by Hans-Joachim Roedelius, in celebration of his 80th birthday.
- Roedelius was a member of Kluster (with Dieter Moebius and Konrad Schnitzler), and has been active ever since as a solo artist and in various collaborations (with D. Moebius/Cluster, with Moebius and Michael Rother/Harmonia, with Brian Eno, etc.). One of the most prolific musicians of the German avant-garde and a key figure in the birth of Krautrock, synthesizer pop and ambient music.