**7xtapes in wooden box, comes with several zines + poster, limited to 80 copies - no repress** No words can capture the seminal importance of Stefan Weisser later known as Z'EV. He is an artist without equivalent or parallel - entirely singular within the history of 20th century music, bridging and creating a diverse number of creative and musical fields, sculpting a body of work which resembles nothing before or since. Forever dedicated to pluming unknown depths, Z'EV's rigorous independence and resistance to categorisation has been a blessing and curse - gathering a deep respect by almost everyone who has encountered his output, yet often sinfully overlooked. The Milan based imprint Blume, hot on the heals of their brilliant reissues of Bruce Nauman's Soundtrack From First Violin Film and Jocy de Oliveira's Estórias Para Voz, Instrumentos Acústicos e Eletrônicos, returns with an effort to remedy this injustice - an incredible seven cassette box set comprised of archival recordings made by Z'EV during one his most creatively fruitful periods, stretching between the mid-1970's and the early 80's.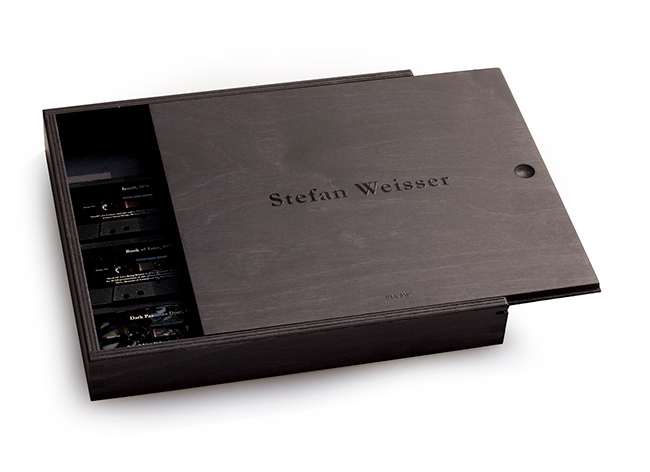 A marvel in sonic creativity, these works offer a long overdue insight into the foundations of late 20th century sound-art, poetics, Punk, Industrial music, and Noise. Filled with surprise, they skirt past the body of work for which the composer is most well know - his efforts in percussion, focusing entirely on his dedication to the human voice. A rich tapestry of sounds - the throat as vehicle for a now lost counterculture, the heights of art joined with the depths of the soul, a ghost-like vision of society, complex and beginning to fray. Within these walls lay countless beginnings and ends.
Born Stefan Weisser, Z'EV is a rare figure in 20th Century music. Often conceptually bound to the sonic spectrums of which swelled from the advent of Punk during the mid-1970's, his roots lay far earlier, and are more explicitly avant-garde. Stefan Weisser began studying percussion at a young age, the first tangible expressions of which began to flower during the mid-1960's, a period in which he began collaborating with the soon to be seminal electronic pioneer Carl Stone, both still in their teens. After flirtations with success, the project disbanding when the two went on to pursue more developed interests at CalArts in 1969, Weisser beginning to work extensively within the fields of visual and sound poetry, studying under Emmett Williams and Sue-Ellen Case, among others, and joining a new vanguard within the context of fine-art. In 1977 he began performing live percussion works - embarking on the body of effort for which he is most well known, ultimately developing radical new techniques orbiting around his own adapted and self-built instruments, constructed from industrial metals and plastics. Though largely unrecognised, during era Stefan Weisser continued to privately engage with his long standing investigations into the interaction of the human voice and text, a truth now revealed with startling effect. While publicly performing, touring, and collaborating extensively in the fields of percussion, planting the seeds for Industrial and Noise musics - movements which would spring up in his wake, there was another stunning, largely unknown body of work, laying in wait.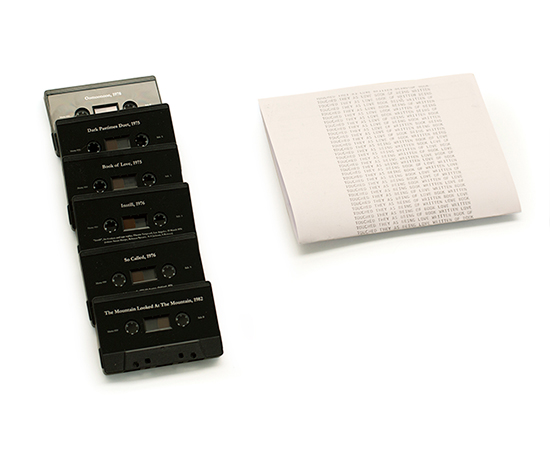 Blume's cassette box set is the first survey of Stefan Joel Weisser / Z'EV's output from the 70's and early 80's to appear on an analog format, the medium in which they were recorded and should be rightfully heard. Across its many depths, we are offered a crucial insight into the development and evolution of one of the 20th century's most important sonic voices -  a window into his ever changing creative life and practice. The set begins with Book Of Love Being Written As They Touched (1975), an hour long work recorded in 1975 for 8 female voices, built from the 40,320 spoken permutations of its title. A definitive work of Conceptual Art, it premiered as part of the Second Generation Show at the Museum of Conceptual Art in San Francisco, and is as crucial an artifact within Weisser's output for the fine-art context, as it is within the history of Sound-Art. Recorded two months later, the second cassette presents Dark Pastimes Duet (1975), a recording made with Roberta Friedman with tape accompaniment, at University Of California, Santa Barbara. Brilliant on every count, it is a reimagining of the decaying potentials of conversation, at a moment witnessing the utopian ideals of Modernism coming to an end. The third work Instill (1976), is an effort for 4 voices and tape replay, and encounters this sense of loss further progressed. Its contributors' utterances are reduced to inaudible mumbling, whispers, and hiss, pushing toward abstraction and slippery rhythmic pulse. So Called and As Is As, both from 1976, push these tactile themes even further, while Spatial Poetics, a live mix for taped voices, presented at The First West Coast International Festival of Sound Poetry in San Francisco during 1977, increasingly reveals direct intervention and the folding of environmental sound, offering an insight into the contextual frameworks for Weisser / Z'EV's thinking and output from this period - an important lens into his defiance of categorisation as he encountered it. This is the field of poetics as it has rarely been understood, radical and enduringly fresh. As each subsequent work unfurls, moving through the years, we progressively encounter the theme of loss through collective dissonance. This is particularly evident within Oomoonoon: Dancing On The Brink Of The Word (1978) which started its life as a 3 hour tape installation. It begins with three 3 minute loops of 3 voices - their ambience recorded, looped, and then replaced every 45 minutes, collectively rising to a total progressive accumulation of 9, to 15, to 27, and then 51 voices.
A transformative effort, any sense of the individual gradually dissolves, leaving by the drifting etheria of a displaced human cloud.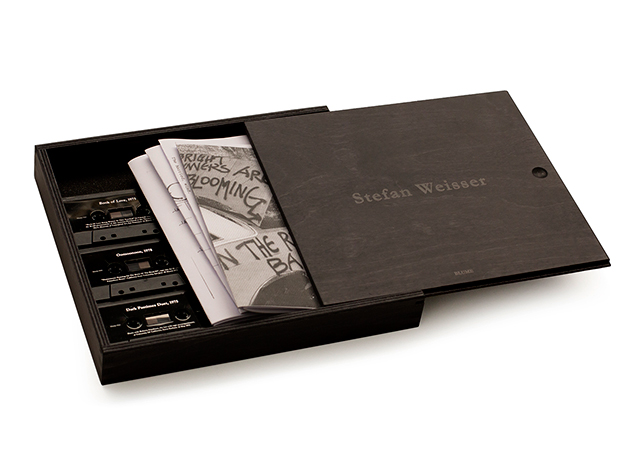 These works - eight remarkable traces from the past, are artifacts from a crucial point in history, from one its most important and singular voices. With their hybridity of source and potential for subjective reading, they rise among the first works of Post-Modern thinking within the creative fields. Profoundly ambitious in assembly and content, the set present some of the 20th century's most radical heights in sound poetry and art. This is a world broken. Sonic articulations, where the centrality of the individual is joined in dissonance. A snarled, slithering knot of voices, where all hope faces the risk of loss, before flowing into a transformed tower of sound. A crucial look at a largely unrecognised body of work, offering Stefan Weisser/Z'EV the attention, appraisal, and place in history he has always deserved. As we said at the outset, within these walls lay countless beginnings and ends.
__________________________
contents:

Stefan Weisser - Book of Love, 1975
"Book Of Love Being Written As They Touched" for 8 female voices, based on the 40.320 permutations of this sentence.
Premiered at the "Second Generation" Show, Museum of Conceptual Art, San Francisco. 14 March 1975  
(voices: Faryl Bell, Lorry Benjamin, Emi Ozaki, Ilyse Feder, Mary Ann Melchert, Judy Parks, Margaret Pethick, Carol Shaler)


Dark Pastimes Duet, 1975
Duets with Roberta Friedman, the last with tape accompaniment, at University Of California, Santa Barbara. 21 May 1975

Instill, 1976
"Instill", for 4 voices and tape replay, Theatre Vanguard, Los Angeles. 19 March 1976
(voices: Susan Sharpe, Rebecca Nevarre, Will Jackson, S.Weisser)

So Called, 1976
At home studio 1523 4th Avenue, Oakland. 1976
As Is As, 1976
At home studio 1523 4th Avenue, Oakland. 1976


Spatial Poetics, 1977
Live mix for taped voices. The First West Coast International Festival of Sound Poetry, San Francisco. 19 November 1977

Oomoonoon, 1977
"Oomoonoon: Dancing On The Brink Of The Word #1. 3 hour tape installation beginning with three 3 minute loops
of 3 voices each - their ambience was recorded and every 45 minutes the loop replaced; total voice accumulation progression: 9-15-27-51 voices. Umunhum Room - California State University, San Jose. 19 September 1977
Oomoonoon, 1978
"Oomoonoon: Dancing On The Brink Of The Word #2", tape mix for 18 voices, Umunhum Room - California State University, San Jose. 29 March 1978

Dark Dream Times, 1982
Solo voice accompanied by tape mix, Het Apollohuis, Eindhoven, Netherlands. 18 September 1982
The Mountain Looked At The Mountain, 1982