Small repress available. An occupant of the present and thread to the past - a rare juncture between diverse polarities of experimental practice, from free improvisation and modern classical composition, to primitivism, electronic music, and extended techniques, for more than half a century Alvin Curran has stood as beacon in the landscape of organized sound. From his efforts within Musica Elettronica Viva, the collective which he helped found in 1966 with Frederic Rzewski and Richard Teitelbaum, to those as a solo-performer and composer, his sounds and ideas have effected immeasurable change. Canti Illuminati, composed and recorded between 1973 and 1977, stands as one of the great documents from the golden era of Curran's singular brand of creative radicalism - combining a deep sense of social and political consciousness, with creative humanism and visionary compositional ideas. Blume Editions is proud to present the first ever vinyl reissue of this seminal master-stoke by one of the most important composers working today.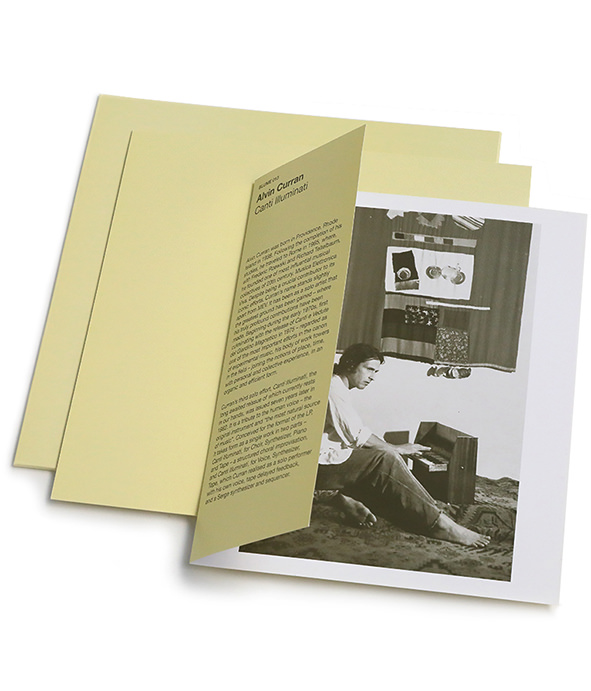 A bridge between the American and European traditions of experimental music, Canti Illuminati, Curran's tribute to the human voice - "the most natural source of music", delves toward the very origins of music itself. In lyrical and poetic form, it rethinks the possibilities and potential of organized sound, seeking something fundamentally human - an optimistic vision of the future, born of the primitive past. Standing apart from canonical definition, it contributes to a more complex and nuanced understanding of what musical Minimalism is. Consciously conceived by Curran for the format of the LP, the album takes form as a single work in two parts - Canti Illuminati, For Choir, Synthesizer, Piano And Tape - a structured choral improvisation, built from the contributions and voices of Alessandro Bruno, Antonella Talamonti, Antonio Cesareni, David Thorner, Elisabetta Bordes-Page, Giorgio Caruano, Luca Miti, Manuela Garroni, Nicola Bernardini, Pierluigi Castellano, and Sista Carandini, and Canti Illuminati, For Voice, Synthesizer, Tape, which Curran realised as a solo performer with his own voice, tape delayed feedback, and a Serge synthesizer and sequencer.

Sinfully under celebrated and all too rarely heard since its initial release, Canti Illuminati remains a profoundly compelling and moving body of sound - unavoidably beautiful - a landscape of sustained tone, rippling texture, and structural intervention. Necessity stripped to the elemental, while challenging, endlessly surprising, and complex. A crucial component in Curran's life long musical quest for something deeply human and fundamentally representative - that elusive thing which connects us all. Fully  remastered by Giuseppe Ielasi, with brand new expanded liner text written by Bradford Bailey.