The Sorrenti brothers' musical careers, Jenny and Alan Sorrenti, have three elements in common at least: the unconventional use of the voice as an instrument, a wonderful debut album (respectively, the eponymous Saint Just's LP and "Aria") and the subsequent 'second album syndrome' that depicted their sophomore efforts as inferior to their predecessors, by an unfair and demeaning comparison. Sorrenti's voice and relatively sparse instrumental accompaniment are remarkable in how much they accomplish, which is nothing short of mind travel.
Recorded in London in 1973 with the help of some special guests like Francis Monkman (Curved Air) on synthesizer, piano and guitar and David Jackson (Van Der Graaf Generator) on flute. Alan Sorrenti's experimental vocals are still in the forefront exploring new territories, with the long and complex 23-minute title-track on the B side, that extremes even more the 'free' and delirious elements than in the past, both musically and vocally. A work, therefore, which is absolutely 'progressive', but inexplicably and wrongly considered a minor second chapter, by some also a first step towards Sorrenti's 'commercial decline'.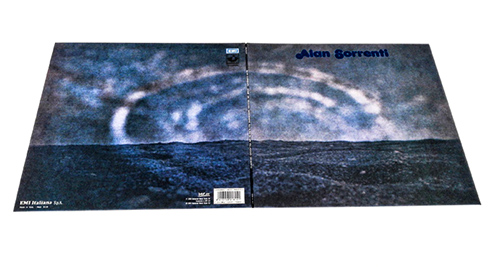 We believe it's a splendid LP instead, finally worthy of a well deserved vinyl reissue, the first in over forty years! Solid gold coloured vinyl edition.