We live in a musical era defined by historical reappraisal - a noble moment which has rescued a near countless number of incredible albums from lingering neglect and loss. As wonderful and exciting as this is, it has come with an unexpected, but increasingly acknowledged consequence. With so many eyes on what was, we risk allowing history to repeat, subjecting today's artists to the same forms neglect which plagued the past. It's becoming increasingly rare to encounter record labels which entirely dedicate their energies to our contemporary landscape of sound, but this is what the French / English imprint,
Hands in the Dark
, has done - taking it a step further with an emphasis on those discrete, subtle, and understated efforts which take time to percolate and unfold. Their latest LP,
Death And Spring
, the debut by the duo,
Papivores
, is a beautiful reminder of the complex wonders transpiring in the now.
Papivores is French violinist
Agathe Max
and British musician and producer
Tom Relleen
. Both have been leaving their mark on the field of contemporary music for a number of years - Max within numerous solo and collaborative projects - Kuro, Mésange, etc, and Relleen as half of 
Tomaga
, whose LP, Memory In Vivo Exposure, topped our charts in 2017. Death And Spring marks the duo's debut, offering a incongruous and unexpected, yet somehow entirely logical collision of highly individualised creative worlds. A sweeping, scratching, deconstructed melodic realm of depth and ambience - acoustic timbres, textures, rhythms , and tones basking in an electronic expanse,
Death And Spring
unfolds as an immersive conversation, ranging from tense and uneasy, to the hormonic and sublime.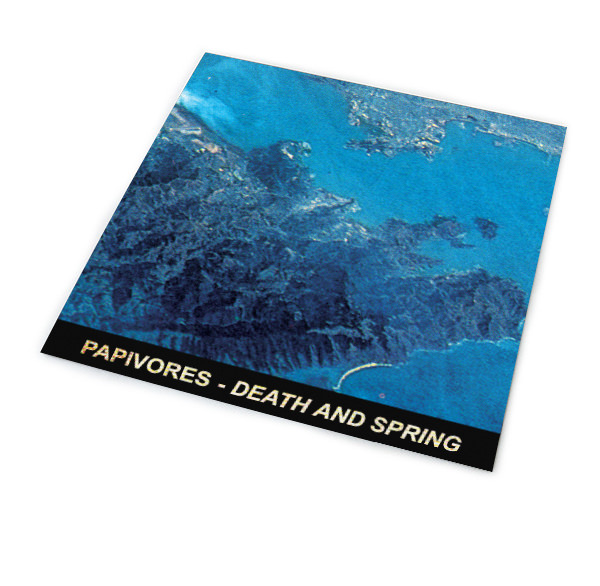 Growing from a fascinating conceptual approach to writing, using a novel by Catalan writer 
Mercè Rodoreda
as its departure point, it folds the author's magical realist reverie into questions which address oppression and authoritarianism, becoming, in Papivores' hands, a politicised spectrum of sound which unveils the rich sense possibility for human concern, still possible and evolving within the world of experimental music.
Moody, symbolic and filled with hope, Death And Spring encounters two musicians conjuring evocations of the natural world and dark psychological states, their individual voices joined together without losing what makes them singular and unique. Yet another fantastic addition to the growing catalog of Hands in the Dark, joining recent and notable excursions from Byron Westbrook, Tomaga, Saåad, Piotr Kurek, Josiah Steinbrick, and a great many more. Issued in a very limited edition of LP 300 copies on black vinyl, we're expecting this one to fly. Grab it fast.