**Limited edition of 300 vinyl copies, comes with a 30x30cm 4-page booklet. Gatefold cover** 2019 has been a fantastic year for the late, great master of electroacoustic music, Luc Ferrari. We've witnessed the release of two astounding LPs of archival works -  Photophonie, via Transversales Disques, and Music Promenade / Unheimlich Schön, via Recollection GRM, not to mention the incredible, sprawling volume, Complete Works, published by Ecstatic Peace Library. Now we're thrilled to see yet another marvel added to the year's catalog - an LP comprised of two stunning works composed by Ferrari during the early 1980s, Dialogue ordinaire avec la machine and Sexolidad, released by the long standing Italian experimental imprint, Elica. Wild and wonderful, this one is absolutely essential for any fan of electronic avant-garde.
Needing little introduction, Luc Ferrari is one the great figures in 20th century avant-garde and experimental music. Born in 1929, and a student of Alfred Cortot, Olivier Messiaen, and Arthur Honegger, despite the accomplishments of his early atonal efforts for piano, like so many of his generation, an almost utopian belief in the potential of sound blossomed into a singular and influential voice - first leaving its mark on Musique Concrète during the mid 1950's, before joining the founding of legendary studio, Group de Recherches Musicales (GRM), in 1958, with Pierre Schaeffer and François-Bernard Mâche. Ferrari was a pioneer, who, for roughly half a century, continuously revolutionised the field of electronic and electroacoustic creative process. Leaving such a sprawling body of work in his wake, much remained unreleased at the time of his death in 2005. Labels and fans have been scrambling to catch up over the years since.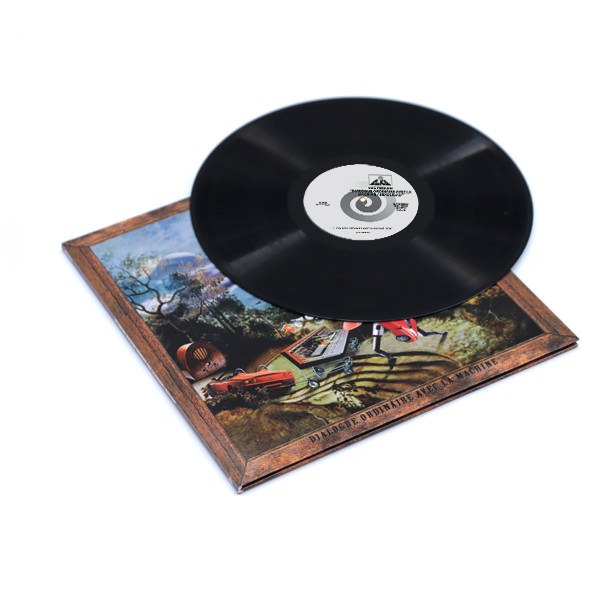 Part of their long standing dedication to Ferrari, dating back to the 1990s, Elica's latest LP - Dialogue ordinaire avec la machine / Sexolidad, takes great strides toward illuminating the composer's remarkable range of diverse approaches to sound. Composed between 1982 and 1984, the first piece showcases Ferrari's interest in tape collage work and sampling, whereas the second piece is one of his less than traditional compositions for a traditional ensemble.
Dialogue ordinaire avec la machine describes the not so chance meeting between the artists (Ferrari helped by Yannick Gornet) and the mysteriously working machine (a sampler), between the curiosity, amusement, surprise, ineptitude and excitement of the musicians and the machine with its appeal, complexity, stubbornness and synthetic eruptions. A rollercoaster through exploration, seduction, observations, misunderstandings, purrs, moans, gurgles, whooshes, loops and mechanical rhythms from which Ferrari builds his own synthesized folklore, ending with one of the most unusual episodes in the composer's production, the rather graphically explicit and apocalyptic Love Song With the Machine (which, to make an unlikely comparison with younger artists, one could imagine the music of the New York duo Suicide mixed by Nurse With Wound's Steven Stapleton).
Sexolidad is one of Ferrari's most seductive instrumental pieces, representing a journey over the body, in which tonalities and their mix create "a particular harmonic climate [...]. What is important is the expression this pseudo-tonal atmosphere should bring out, as a sort of sensual, and even carnal, satisfaction". The curious concept and its musical composition result in an extremely enjoyable piece which is continuously intriguing, evocative, dauntless, persuasive and highly satisfying, exquisitely performed here by the Ives Ensemble.

Endlessly fascinating, challenging and rewarding, Dialogue ordinaire avec la machine / Sexolidad is yet another outstanding entry into the catalog of one of the greatest voices within the 20th century musical avant-garde, in what has already been an incredible year. Issued in a very limited edition of 300 vinyl copies, the album includes a 30x30cm 4-page booklet with bilingual (French-English) versions of the integrated text from Sexolidad and the lyrics to the Love Song with the Machine.