Slowscan vol. 34, a beautiful orange vinyl release, presents the listener with a cross section of William Levy's controversial audio works. They range from high priestess of porn Annie Sprinkle reading Levy's poem 'Blood' to various works for radio, such as an excerpt of 'Europe In Flames', a successful 1987 radio play in collaboration with Willem de Ridder. Radio has occupied a special place in Levy's work since his African American nanny turned him onto 'race music' in Levy's hometown Baltimore, where in the early 1960s Fat Daddy's bawdy radio shows found further willing and appreciative ears with Levy and his friends. Several decades later, on the other side of the Atlantic, Levy edited 'Certain Radio Speeches of Ezra Pound' for Cold Turkey Press, co-authored the epistolary 'Sing a Round for Ezra Pound & Other Ranters on the Radio', wrote 'Lend Me your Ears: Some New Orality Echoes' and published the manifesto 'Radio Art' and the magazine 'Radio Art Guide'. Moreover Levy loosely modelled his alter ego Dr. Doo-Wop after Fat Daddy to host his own radio shows. The Dr. Doo-Wop Radio Shows – a tribute to which is included on this LP – were broadcast weekly from Amsterdam from 1987 to 2007 and are currently being re-broadcast by John Sinclair for Radio Free Amsterdam. On other tracks of the LP Levy is heard reading poems such as 'Fantasy Affair' and performing live on various occasions. All rare recordings directly from Levy's archives and beautifully packaged for Slowscan by Johnny Van de Koolwijk in a limited edition of 250 copies.
Levy's b/w portrait on the front of the sleeve was taken by Indra Tamang during Levy's visit to Charles Henri Ford at the Dakota in 1979 or 1980. A portrait by Michael Oetker in front of the Viennese prison where Levy had just visited his friend Otto Muehl is printed on the back of the sleeve with liner notes by Ben Schot. Those liner notes conclude that the LP is 'as mouthwatering to collectors as the smell of St Lawrence on the grill must have been to the hungry population of the slums of Rome'.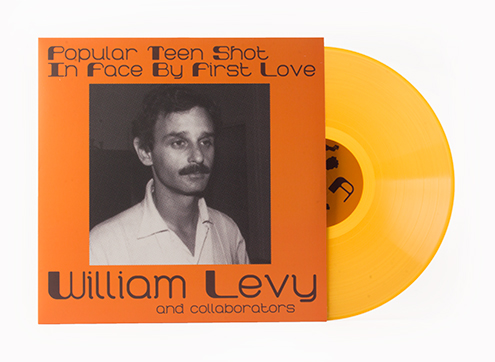 William Levy (b. 1939) is a gentleman poete maudit, salacious writer of tales, seditious foreign correspondent, bespoke publisher, extreme radioist, slum landlord, and "known as the Talmudic Wizard of Amsterdam." Recognized as a "provocative, lustful, funny, impassioned" author and/or editor of a number of scorching cult classics of the book variety. The Virgin Sperm Dancer, Wet Dreams, Souvenir Programme for the Official Lynching of Michael Abdul Malik (w/ John Mitchell), The Invisible Language series, Voicings and Transmissions, Radio Art and Radio Art Guide (w/ Willem de Ridder).