Japanese sound artist Toshiya Tsunoda is a master of the art of field recording who discovers the hidden properties of sound and vibrations in the material world, from road surfaces to the sea. Through acute mic placement, field recordist Toshiya Tsunoda captures the unusual vibrations of everyday spaces. The recordings contained in this amazing box open up an expansive soundfield of subtle modulating frequencies and dramatic suspensions of time and space. Sounds such as these would be the envy of minimalists like Eliane Radigue and Phill Niblock, and are commonplace within the Tsunoda catalogue. Tsunoda says "As for my field recording, I do not intend to recreate the atmosphere of a location; and I am not interested in recording special situations of historical incidents. I do not process any of my recorded material, and I do not record for the sake of making music or simply discovering interesting acoustics".
His archival series of three themed sets of field recording studies, released on three different labels from 1997 to 2001, 'Extract From Field Recording Archive #1 – #3", lay the groundwork for so much of what followed, both from Tsunoda and many others. All the sounds in the original three releases (#1-#3) were physical vibrations recorded in outdoor and indoor environments from 1993 to 1999, in the port service area in the Miura Peninsula where he was born and grew up, as well as at the neighbor ports.
Also CD 1-3 are not identical to the originally issued ones. Now all the tracks have exactly the same durations as Tsunoda's original DAT recordings. All the tracks were remastered from these original DAT recordings for this box set. Thus, the duration of each track and each CD are different from the previously released ones. Also the track lists on Extract #2 (CD 2) and Extract #3 (CD 3) are slightly modified from the original releases, as detailed in the booklet.
In addition to those three, for this reissue box Tsunoda compiled two new albums. CD 4, 'Extract From Field Recording Archive #4', contains his previously unpublished recordings of the Nagaura Port from the same period as #1-#3, and CD 5, 'Reflection-Revisiting', contains more recent recordings from 2007-2018, in which he revisited some of the original port areas, looking for a certain continuity between his ideas in the past and the present, while also discovering the differences between the two periods.
"My purpose for these recordings in the nineties was to observe vibrations, and at the same time to find the observation point for each recording. For some very subtle, inaudible vibrations, a special method of observation such as installing a contact microphone inside a bottle or a particular observation point is required. It can be said that the object of the vibration and the act of observation are inseparable. I think that it is not really 'detection' or 'documenting', but is more likely closer to 'depiction'. The word 'depiction' has a nuance of both watching and portraying an object simultaneously."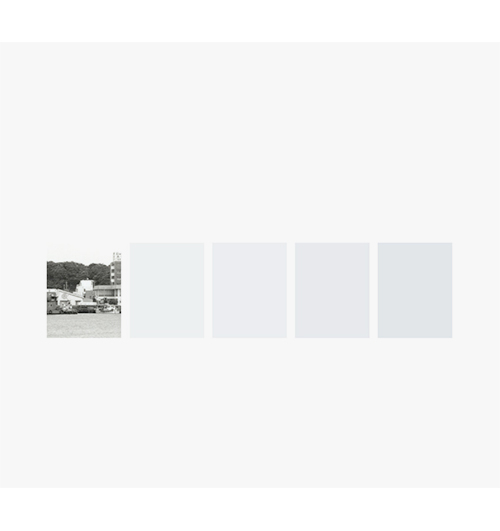 "By using small microphones and contact microphones, I tried to detect vibrations that were integrated with the presence of the place, like the vague images existing in the lowest layer of our perception. The space that could be observed in this way was quite different from how we perceive the actual place as a space." (from liner notes by Toshiya Tsunoda)
The extensive liner notes were newly written by Toshiya Tsunoda for this box set.
CD 1 Extract From Field Recording Archive #1 – Vibrations In Stationary State
recorded in 1995-1996 (original release: WrK/Japan/1997/WrK008cd)
CD 2 Extract From Field Recording Archive #2 – The Air Vibration Inside A Hollow
recorded in 1993-1999 (original release: Häpna/Sweden/1999/H.01)
CD 3 Extract From Field Recording Archive #3 – Solid Vibration
recorded in 1995-1999 (original release: Infringitive/USA+Italy/2001/infr01)
CD 4 Extract From Field Recording Archive #4 – Standing Wave Of Nagaura Port
recorded in 1994-1995
CD 5 Reflection-Revisiting
recorded in 2007-2018
44-page English/Japanese booklet with liner notes by Toshiya Tsunoda (English translation by Yuko Zama) and photography by Atsushi Tominaga.
Cat. number: ErstPast 001-5
Year: 2019