Last copies around... Black Truffle together with Bernhard Rietbrock and ZHDK present Illuminated By the Moon, a stunning box set celebrating Alvin Lucier's 85th birthday celebrations which took place in Zurich, 2013. Alvin Lucier is one of most important figures in more than a half century of avant-garde and experimental sound practice; he has no equivalent. He is among America's most important composers, a towering pillar of intellect, creativity, and beauty realized through sound. His singular body of work is focused around acoustic phenomena and auditory perception includes, among others, the groundbreaking Bird And Person Dyning, 1980's Music On a Long Thin Wire (LCD 1011CD), and 1981's I Am Sitting In a Room (LCD 1013CD), each quietly shifting the understanding of what music could be with deceptively discrete gestures, laying their mark on history and the expectations of nearly everything to come, while radically expanding the field. It is such a life, defined by such striking accomplishment, which Illuminated By the Moon, celebrates across four LPs, a CD, and book.
Recorded in October of 2016 at the Alvin Lucier 85th Birthday Festival at the Zurich University of the Arts, the box gathers a remarkable range of performances of works from Lucier's life in music, from the iconic to the lesser known. It begins with wonderful stagings of "I Am Sitting In a Room" and "Music for Solo Performer" performed by the composer, before presenting the work "Charles Curtis" performed by the cellist for whom it was composed, and "Double Rainbow", a recent work, performed by the incredible Joan La Barbara.
Over the course of the set's many discs, one encounters a range of works performed by Oren Ambarchi, Stephen O'Malley, Charles Curtis, and Gary Schmalzl, with further contributions by many others involved in Lucier's life and work.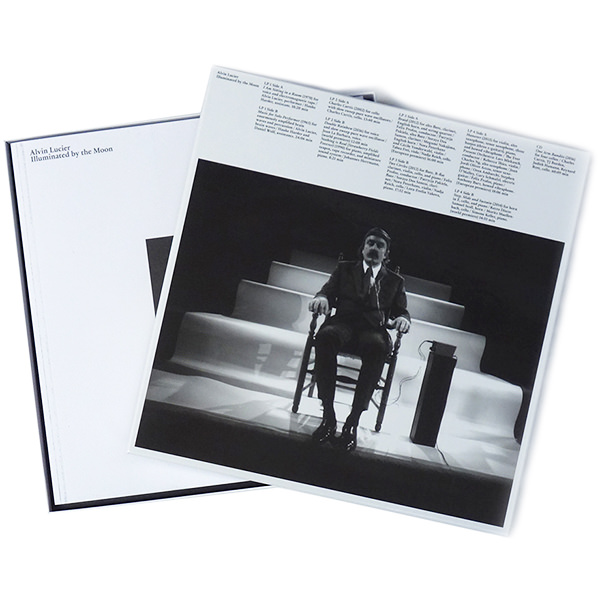 Born in Nashua, New Hampshire and educated at Yale and Brandeis, he currently teaches at Wellesley College. In the late 1960s, he became involved in an experimental composer collective along with composers Gordon Mumma and Robert Ashley known as the Sonic Arts Union. The group performed together for over a decade, using each other in their compositions and artworks. Lucier was a particularly inteesting case for the others because he had a stutter which they liked to exploit. Lucier's music tends to be concered with physical space, acoustic resonance and the acoustical beating that results when two pitches that are very close in frequency are played at the same time.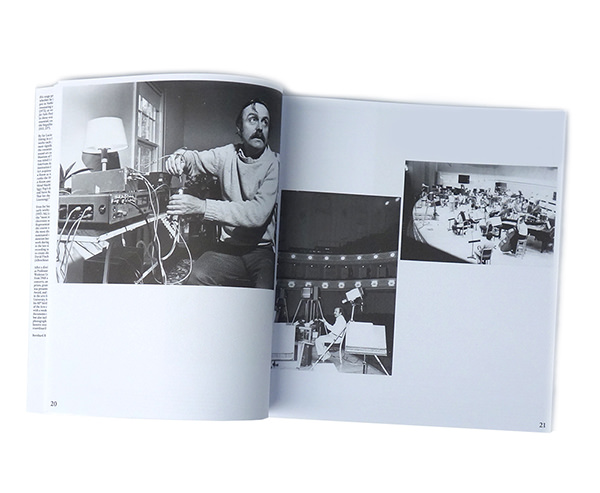 LP 1 Side A
I Am Sitting in a Room (1970) for voice and electromagnetic tape / Alvin Lucier, performer / Hauke Harder, assistant. 18:20 min
LP 1 Side B
Music for Solo Performer (1965) for enormously ampli ed brain
waves and percussion / Alvin Lucier, brain waves / Hauke Harder and Daniel Wolf, assistants. 24:06 min
LP 2 Side A
Charles Curtis (2002) for cello
with slow sweep pure wave oscillators / Charles Curtis, cello. 13:40 min
LP 2 Side B
Double Rainbow (2016) for voice and slow sweep pure wave oscillator / Joan La Barbara, voice. (world premiere) 12:08 min
Nothing is Real (Strawberry Fields Forever) (1990) for piano, ampli ed teapot, tape recorder, and miniature sound system / Johannes Herrmann, piano. 8:21 min
LP 3 Side A
Braid (2012) for alto ute, clarinet, English horn, and string quartet / Felix Profos, conductor / Patrycja Pakiela, alto ute / Soraya Dos Santos, clarinet / Megumi Nakajima, English horn / Nora Peterhans and Cécile Vonderwahl, violin / Tabea Frei, viola / Nadja Reich, cello. (European premiere) 16:00 min
LP 3 Side B
Two Circles (2012) for flute, B-flat clarinet, violin, cello, and piano / Felix Profos, conductor / Patrycja Pakiela, ute / Soraya Dos Santos, clari- net / Nora Peterhans, violin / Nadja Reich, cello / Lora-Evelin Vakova, piano. 17:52 min
LP 4 Side A
Hanover (2015) for violin, alto saxophone, tenor saxophone, three banjos (three e-guitars), piano, and bowed vibraphone / e Ever Present Orchestra: Lars Mlekusch, conductor / Rebecca ies, violin / Charles Ng, alto saxophone / Joan Jordi Oliver Arcos, tenor saxo- phone / Oren Ambarchi, Stephen O'Malley, Gary Schmalzl, electric guitar / Felix Profos, piano / Anthony Burr, bowed vibraphone. (European premiere) 18:06 min
LP 4 Side B
Step, Slide and Sustain (2014) for horn in F, cello, and piano / Retro Disco: Samuel Stoll, horn / Moritz Muellen- bach, cello / Simone Keller, piano. (world premiere) 14:55 min
CD
One Arm Bandits (2016) for four cellos / Charles Curtis, TJ Borden, Judith Hamann, Reynard Rott, cello. 60:09 min