**Outstanding archival oddity out by the knowledge at Urashima.  Mauthausen Orchestra, a key figure in the dark waters of early industrial music**  One of the key figures of the Italian industrial scene, Pierpaolo Zoppo starts releasing his own tapes of his project Mauthausen Orchestra under the astonishing label Aquilifer Sodality in 1982. Pierpaolo Zoppo does not leave much up to the imagination with the titles for these early Mauthausen Orchestra albums. Sex. Death. Blood. Combing through topics such as sexual violence, perversion, torture and murder and picking them apart with the right maneuver as to not come off as cheap and careless is not an easy task.  Mauthausen Orchestra's atmosphere, one of true debauchery and calculated sickness, coalescing with the sobering awe of his industrial racket blanketed by the 80's true lo-fidelity, raw recording procedures has yet to truly be matched. Mauthausen Orchestra remains one of the pioneering exploits from the incredibly macabre Italian industrial scene that began with Maurizio Bianchi and continued through Mauthausen Orchestra, Sigillum S, The Sodality until Atrax Morgue. It's hard to ignore how the extremity of the poetics from the Italian scene literally bleeds beyond art and into life for many of these artists.
Reissue of challenging early '80s Italian noise decimations from the notorious Mauthausen Orchestra for the first time in cd edition and completely remastered from original tape which includes MO's long-deleted four titles Anal Perversions, Host Sodomy, Bloodyminded and 2nd Movement. Each cd housed in individual mini-LP gatefold sleeves with new art and packaged in a hard black box with white lettering ink, limited to 199 copies.
 
"Anal Perversions" is a fierce nihilism that overflows into the undefined territory between  sex and maniac desire, marking our brains and our skin. A single act of sensory rape trying to deconstruct any rational particle that approaching the sound composition.
 
"Host Sodomy" represents an unprecedented noise assault, without sparing any form of perversion, relinquishing any moral obligation in the pursuit of the late charge.
 
''Bloodyminded'' offers a side of oppressive ferric noise devolving into anguished vocal terror and another slightly more nuanced side, adhering to a similar schematic. If nothing else is doing it for you, try this at your own risk.
 
''2nd Movement'' carry us, once again, as real rituals of a civilization without gods, in a pure world of suffering. Infinite modulations towards a sky that has now disappeared and locked in concrete.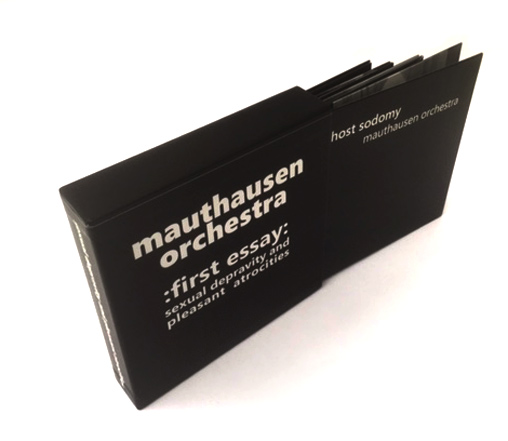 Cat. number: Ushi 001_004
Year: 2015
Notes:
Deluxe edition, 4 x digipack CD, edition of 300 copies