Outstanding!! Kye is proud to present the release of 'To Be Continued', a previously unpublished 1973 performance, documenting the first meeting of Joe McPhee and John Snyder.
"On a Sunday afternoon in the summer of 1973, a group of mostly non-professional musicians/music lovers, literally friends and neighbors came together to present a concert in a communal ritual Ancient to the Future, for friends and neighbors at Holy Cross Monastery in West Park, NY. The Episcopal order graciously made their facilities available for concerts in 1968 and my first recordings for CJRecords -Underground Railroad in 1968. Just a few months earlier I met John Snyder, who had recently acquired an ARP2600 analog synthesizer and immediately the "what if" scenario of such a musical adventure moved from imagination to reality." (Joe McPhee).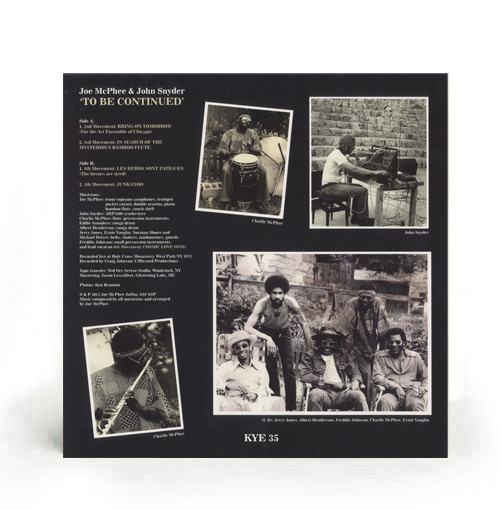 Mastered by Jason Lescalleet at Glistening Labs, 'To Be Continued' arrives in a full color hi gloss sleeve, featuring archival photos from the concert, and comes with an insert containing program notes/recollections by Joe McPhee, and a download card to access the complete unedited 60 minute concert recording. Edition of 500 copies."