*In process of stocking* Niagara's third LP Afire is the rarest one from kraut drummer, formerly of Sunbirds, Klaus Weiss' band. An astonishing album which returns to the minimal sounds based on percussion and rhythm of their first album, yet retaining a feel of harmony all through it - this time not provided by the brass instruments that had been added in S.U.B., but though to the high emphasis put on combining a variety of drums each tuned to their perfect pitch, and the contribution of Embryo's bass player Dave King. Also present on the sessions were percussionists George Brown, Sabu Rex and Norman Tolbert. The phenomenal rhythms contained on this LP have made it a very sought after piece among those looking for cool samplers to mix.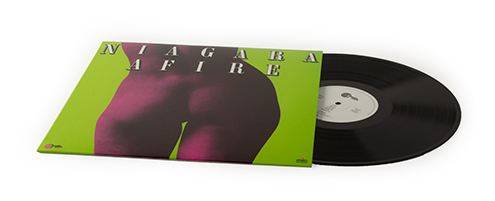 "Heavy percussion galore – and one of the seminal early 70s classics from the Niagara combo of German drummer Klaus Weiss! The sound here is far more percussive than even on the group's more famous album for Liberty – and in addition to Weiss' work on the drum kit, the album also features congas, timbales, bongos, tympani, and a variety of other percussion instruments – all supported by just a bit of electric bass! The lack of any other instrumentation give the album a very strong focus on the rhythms – but the groove is still somewhat melodic too, thanks to inventive use of some of the smaller, more tuned percussion instruments by other members of the group. There's almost a funky batucada groove going on here – a rich, round sound that comes from a very tight small combo!" Dustygroove
Klaus Weiss is considered one of the best drummers of the German jazz scene, he was always very active and played with a lot of USA jazzmen travelling Germany like Hampton Hawes, Herbie Mann, Mal Waldron or Johnny Griffin, as well as with German greats as Klaus Doldinger, George Gruntz, Friedrich Gulda, etc.
The Wah Wah edition is the first ever vinyl reissue and comes with remastered sound, housed in a nice cover reproducing the original fluorescent ink artwork and an insert with notes. Limited to only 500 copies!