Best of 2016
Tensione Dinamica
Label: Intervallo
Format: LP
Genre: Library/Soundtracks
Out of stock
* Out now * The niche occupied by libraries in the history of Italian music is full of amazing stories, such as Rotary Records' one – actually one of the most interesting and peculiar. The label, created and led by renewed composer Amedeo Tommasi, released seven albums in just one year – between 1973 and 1974 – of material ranging from futuristic experimentations to classic and jazz (the latter being one of the biggest passions of Tommasi).
He wasn't just the boss, but also played piano and electronic instruments in all the records he released; he then took care of all the brilliant artworks (the original ones can be easily found online) and of pressing duties.
The first three volumes of the series were released in 300 copies each, the other four in a humble press of 100 each: numbers that show how rare these records are nowadays, and how scarce their circulation was at the time. Tensione Dinamica by Narassa (an alias of Sandro Brugnolini), is the first of two Intervallo releases dedicated to Rotary's experimental vein (another one will follow soon).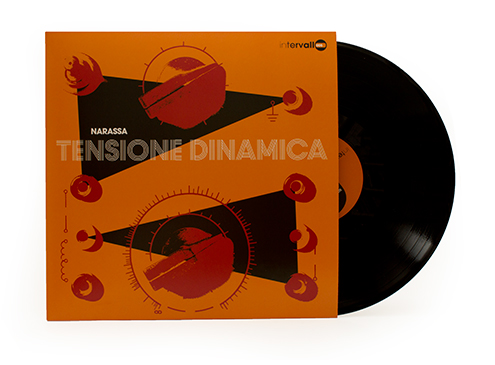 This lost gem by the duo Brugnolini/Tommasi is a piece of work ahead of its time – pretty much as it happened to the almost-twin album Tecnologia -, and it's characterized by a lighter use of technology and a more traditional approach. Creative tension (be it static or dynamic, like the first two song titles of the album) is always headed toward experimentation, even if touches of jazz and of the great tradition of Italian libraries can be found in the album. Vacuum (in two versions), Conflittuale and Filterband introduce electro touches, but the biggest surprise comes with Spleen, the opener of side two: a perfect track to be sampled for hip-hop – wait... did anyone say Mobb Deep? – and totally crazy, for the time it came out. But Tensione Dinamica is also enhanced by the precious liquid piano and the synth mumbles of Subtone e Fantapolitica… and let's not forget the invention of Stereolab in Aflogelia. Totally amazing!