Soundtrack From First Violin Film (LP artist record)
Label: Die Schachtel
Format: LP (artist multiple)
Genre: Sound Art
Out of stock
Die Schachtel, in collaboration with Tanglewood Press, is proud to announce a very special edition, which we are not afraid to call the jewel in the crown of our celebrated DS Art Series, devoted to the most uncompromising expressions of sound and contemporary art: the repressing on vinyl LP of the 1969 lost record "Soundtrack from first violin film" by celrated conceptual artist Bruce Nauman, as a limited (100 copies) art multiple, individually numbered and signed by Bruce Nauman and hosted in a custom-designed yellow-glo perspex (plexiglass) case.
"On this LP one hears Nauman's own body with extreme intimacy – his fingertips, muscles, weight, and personal rhythms broadcasting as he conducts these exercises. Indeed that's what his subsequent art often does, provoking a formal space of intimacy by whispering in your ear, displaying a cast limb, or pressing on you, the viewer, with blankly disguised menace. "

Jay Sanders, Curator of Performance,  Whitney Museum of American Art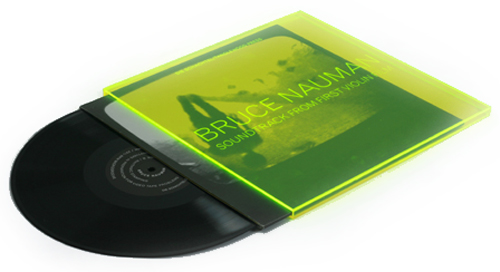 " Heard in isolation from its source, Nauman's pugnacious and untutored sawing of his instrument has a certain raw appeal. Abrasive sounds, steered by obsessive gestures, etch out a series of rough and fragmentary patterns, the residue of a performance that gave priority to the body and its activity. A second track on the first side, abstracted from a 1968 film, finds the artist sounding two notes very close together and generating audible beats in the harmonics. It's a chunk of sonic primitivism that strays, perhaps consciously, onto terrain being explored with more explicitly musical purpose by contemporaries such as La Monte Young and Tony Conrad. The tension between the immediacy of these sounds and their mediated status as documentation touches on the essence of Nauman's artistry, and that remains both provocative and compelling."

Julian Cowley, The Wire, October 2016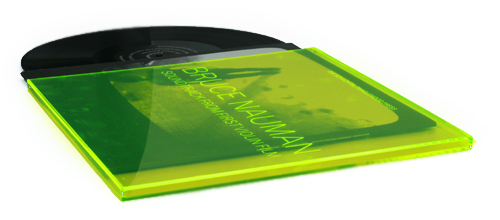 Bruce Nauman is considered one of the most influential contemporary artists today, having created numerous genre-defining works through the exploration of the body and language, as well as performance over the past 50 years. His innovative and provocative ideas are expressed in a wide range of media and materials, which makes it difficult to categorize his work as inhabiting a single style. Even throughout his sixties, he has continued to work primarily in sculpture and video, exploring language and the physical body with unusual themes based on animal and human body parts.

BRUCE NAUMAN

SOUNDTRACK FROM FIRST VIOLIN FILM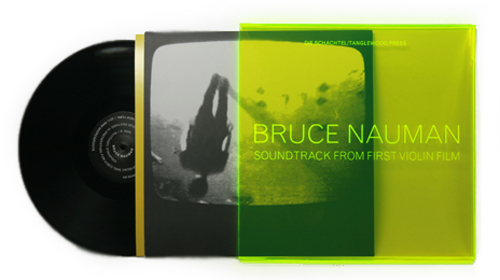 ARTIST MULTIPLE - VINYL LP RECORD

DSART13 DIE SCHACHTEL/TANGLEWOOD PRESS


Limited black vinyl edition of 100 numbered copies. Individually hand-signed by Bruce Nauman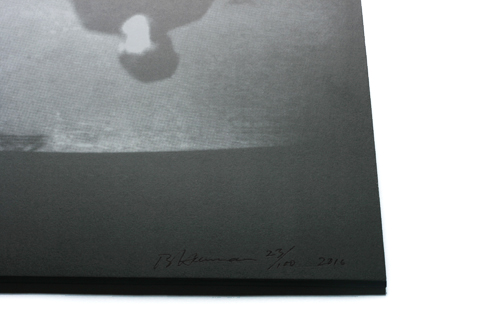 TECHNICAL SPECIFICATIONS

- High-quality pressing on black vinyl;

- Outer slipcase made with high-quality yellow-glo Perspex with laser-etched typography.

- Sleeve printed on heavy cardboard with a "stocastic" raster, to preserve the quality of the original video still.

- Each cover individually hand signed and numbered by Bruce Nauman.

- Insert with original text by Jay Sanders, curator of Whitney Museum of American Art.


- Shipped in a custom-made protective package to avoid any possible damage.



SIDE A

1. Soundtrack from first violin film

Playing all four strings on the violin

2. Violin problem twoPlaying two notes very close together


SIDE B

Rhythmic stamping

Four rhythms in preparation for video tape problems

Recorded 1969